EMMARES email upgrade
Hello dear readers it's no secret that every Internet user has e-mail and maybe not one. The methods of using e-mail are almost unlimited. Most sites on the Internet require you to create a mail for registration, some users store their data on it, passwords, etc. But those who use their mail on a maximum are familiar such as problems like spam in the inside of mail and its hacking by scammers. Spam is a scourge of all electronic mailboxes, so there are a lot of it, it clogs the already meager memory space of your box so it can also contain malicious programs that can damage not only your box but also your device through which you opened the ill-fated letter.
But what if I tell you that you can earn money on spam, maybe you will not believe me in word, but still listen to what the EMMARES project offers us. About which today we will speak.

What is EMMARES.
EMMARES is a very unique and unique platform of its kind that will help its users to earn money by spam and other emails that they receive on their box.
Just imagine that the marketers who send out spam will pay you for the fact that you read their letters as well you can choose which advertisement is acceptable and which is not. You can say that this is utter nonsense. But I'll rush you to persuade you that the EMMARES project has a unique idea and a way to put it into practice to help you earn money on your mail.
When using the EMMARES project, you will receive tokens of projects that send you spam. Also, when commenting on spam or responding to it, you have a chance to multiply the tokens that you receive. Your answers to these letters will help improve these projects and lead to an increase in the prices of their token that will allow you to earn much more.
How the platform works.
The principle of the project is unique in its kind and has no analogues since the EMMARES team are professionals in this field and they have no equal in their business. And now in detail about the algorithm of EMMARES.
Marketers sending out spam create a smart contract, after all users of this platform come spam letters with one or another advertisement. When a user acquaints himself with the content of this letter and the idea of

the company of the customer of this advertisement, he can choose whether this area of activity is interesting to him or not. If this area of

the given activity is not of interest to the user, he will no longer receive letters of this content. This situation will create a huge resonance thanks to which the algorithm will understand what you are interested in and you and other users will receive only letters of interesting content to you. Ultimately, all parties will benefit and everyone will benefit from this cooperation.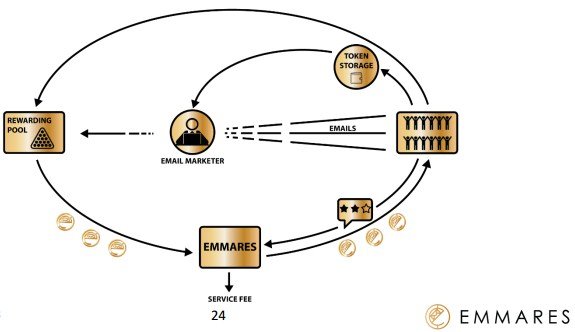 Information about ICM and EMMARES token.
The EMMARES platform has created its own token, which will bring transparency and convenience to the platforms. Thanks to this token, the problem in the difference in exchange rates will be eliminated, which will make it comfortable on the platform. This token can be bought or sold, which will bring additional finance to the holders of this token, plus this token will bring additional dividends to its holders inside the system.
💰PREICO 20.04.18-20.05.18
💰The EMA symbol
💰Price 1 EMA = 0.12 USD
💰 Ethereum Platform
💰Street Belize
💰 Collection 22 500 000 $
I also want to add one very important information. This project received very high ratings among the most popular ICO review and evaluation sites.

ROAD MAP.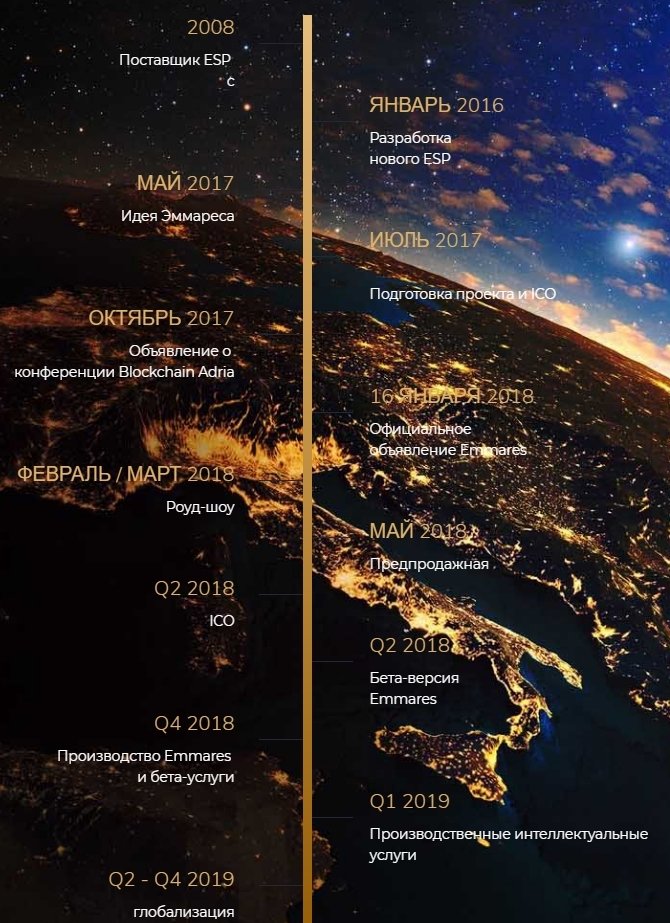 The project team.
Earlier, I already mentioned that the team of this project has been working in this market for several years and pretty much got a hand in this area. So I think that I have to present them.



Conclusions.
As you can see the idea of the project is unique and deserves your attention. I believe that this project is doomed to success because the algorithm of the project has already shown itself in the work with the best side, plus the project team calculated all possible variants of the development of events, even the worst and force majeure. I can long to crucify here before you, proving your point of view, but still it's up to you to decide whether the project is your attention or not. So decide the gentlemen, but my opinion is such a project is more than worthy of the public's attention because it is unique and can bring additional finances to your wallet.
Links to the project:
Web: https://emmares.io
Whitepaper: https://emmares.io/whitepaper.pdf
Bitcointalk: https://bitcointalk.org/index.php?topic=2807216.0
Twitter: https://twitter.com/emmares_io
Telegram: https://t.me/emmares
Medium: https://medium.com/emmares 
The author of the article: reaper17
Link to the BTT profile: https://bitcointalk.org/index.php?action=profile;u=2299592
Wallet address: 0x24a1bDEFFB5c061A9D929C0D41d489Ea396DDE59