"Nauticus" Better banking and eCommerce using blockchain technology. ICO LIVE.
Cryptocurrency exchange from Melbourne, which managed to attract almost 17 million dollars during the ICO, has grandiose plans to develop its platform.
Nauticus plans to create a convenient trading platform for conducting secure cryptocurrency transactions. For the auction will be available 300 crypto and 16 fiat currencies.
Nauticus will be able to provide users with a fully-functional platform for e-commerce and global payment processing. The company also intends to create a "green" blockchain center for mining. Project leaders hope that it will be ready by 2022 and will be able to pass the KYC verification procedure.
The Nauticus project provides users with useful, effective and sustainable global banking solutions. These solutions are designed for business and security. The basis of solutions is the use of blockchain technology.
The Nauticus project can be used daily by ordinary customers, enterprises of various sizes, as well as local, state and federal authorities.
Thanks to Nauticus, the world will improve significantly, especially for the most disadvantaged. The project focuses exclusively on philanthropy and the responsibility of society. After people begin to use this system more often, the standard of living in the most underdeveloped states will improve, people will have equal rights, and the environment will be under reliable protection - this is what is considered the main values of the project.
Nauticus strives to maintain ethical standards and the rights of each client, and therefore an important mission of the project is to protect the assets of each user.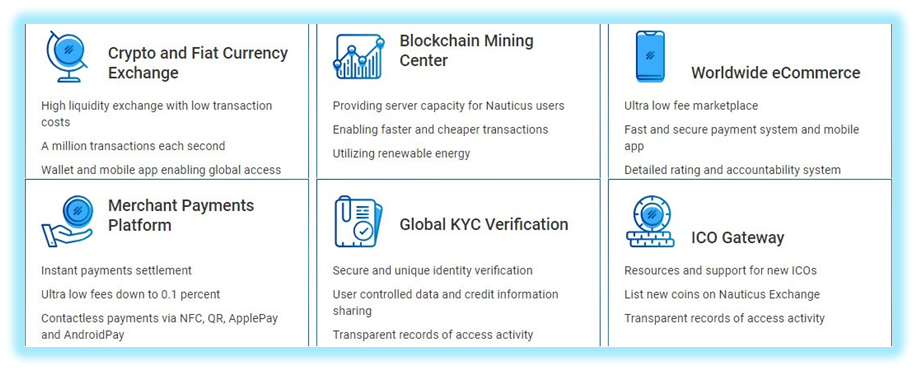 This is a serious step, even for a company that was able to raise $ 17 million during the initial placement of coins. Crypto exchange Binance took a year to move from ICO to a large trading platform, and the startup registered in AUSTRAC hopes that it will be able to accomplish this and attract investors in a shorter period of time.
In some countries, retail investors already have access to simplified interfaces for trade in cryptocurrency. For example, investors from the United States were given access to a convenient brokerage platform Coinbase, while other fiintech start-ups recently began to strike at the market share of the company.
Earlier this year, Square added the opportunity to buy and sell BTC. However, during the first quarter the company managed to earn only about 200 000 dollars.
The application for stock trading Robinhood also provided an opportunity to make transactions with digital currencies.
Circle also introduced its own application with a simple interface Circle Invest, which currently supports 7 crypto currency, the last of which was added Monero.
Nevertheless, investors in other regions have fewer opportunities, providing such companies as Nauticus with the conditions for creating a special user base and expanding their activities abroad.

https://bitcointalk.org/index.php?action=profile;u=1080044
0xDaeb3f47f60FE496A0828DAA3939c168c971367B