"Nauticus" ICO LIVE.
Good afternoon dear friends, guests and subscribers. Today I want to present to your court the project of an innovative integrated solution for banking and electronic commerce Nauticus.
The basis of this ecosystem will be a multicurrency exchange, on the basis of which the possibility of implementing a blocking system in e-commerce, trade, banking is realized.
You ask: why do we need another exchange? Wait to close this review, I will explain why the Nauticus project deserves attention.
Currently, there is a serious problem with buying / selling altcoyins on crypto exchanges. First, it is the conversion of phiatic money into cryptocurrencies and vice versa. Secondly, tangible commissions held by exchanges for these procedures. Capitalization and popularity of the cryptocurrency market is growing every year and requires the emergence of a universal solution.
Such a solution will be the Nauticus crypto exchange, a comprehensive service center that supports settlements in 300 different cryptocurrencies and more than 7 fiats currencies. The most common user can use the currency of his state to buy cryptocurrencies with a minimum commission, as well as withdraw money using international payment systems such as PayPal and Western Union.
Well, an excellent solution - a convenient exchanger, you will say and ask: what's the point in the NAUTICUS coin?
Three main coins will be presented on the NAUTICUS platform, on the basis of which exchange pairs will be built: Bitcoin, Ethereum and the Nauticus exchange's own coin. And the use of the latter will provide users with a 50% reduction in the commission for the operation. This will result in the popularity of the Nauticus coin.
Moreover, the Nauticus project will not be limited only by the exchange and the exchanger. The exchange is the basis on which an entire ecosystem will grow, offering modern and convenient solutions for business and consumers. Among them: a platform and a mobile application for e-commerce, a contactless payment module for trading terminals, a unified customer identification system, a platform for ICO.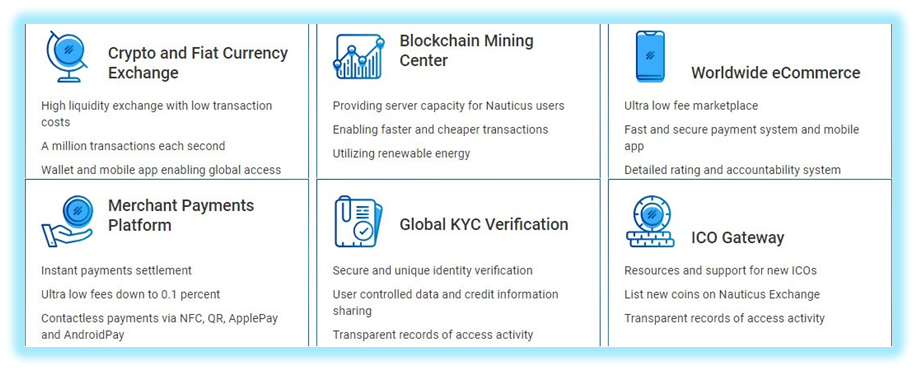 Let's take a little look at how the project will develop and what its objectives:
International exchange for trade and exchange of both crypto and Fiat, with support for Nauticus wallet and mobile application. Will be launched in mid-2018. Users immediately will be available 100 crypto and 7 fiat currencies, including USD and EUR. The commission will be less than 0.1%. The interface of the trading platform will have both a simplified version for beginners and an advanced one for professional traders with the ability to integrate trade robots. Security will be provided by two-factor protection and biometric identification.
Own mining center based on energy-saving technology Antminer S9, through which the Nauticus infrastructure will be supported and fast and cheap transactions will be provided.
Global support for Internet commerce. Development of a universal secure system for accepting payments on the basis of a block of funds with support for major crypto and Fiat. Minimal charges for the operation. Intuitive mobile application. Fast and safe transfer of funds between individuals and legal entities.
Complete solution for offline business: development of a platform for contactless payment reception via NFC, QR, ApplePay.
Nauticus will become an international leader in customer verification. (KYC). Verified users will be able to control their data and transfer it as needed to third parties. Any data transfer will be protected by additional authorization from the user.
Support starting ICO. Consultations of marketers and promotion specialists. Solving issues related to finance and legal documentation. Help in developing the code for smart contracts. Listing on the Nauticus exchange.
In conclusion, let us once again try to answer the question: why do all the same need to buy coins NTS?
They will be traded on the Nauticus exchange already this year;
Will be allowed to receive a 50% discount on the commission when exchanging currencies;
Will allow you to receive a 50% discount on commission when exchanging currencies;
Coins will be integrated into Nauticus payment systems;
And, most importantly, Nauticus will introduce a similar to the Binance strategy of commission fees, which will increase the demand for coins in the exchange of currencies. As we all know, Binance Coin increased its value by 22,000%.
Good luck!

diimazavr https://bitcointalk.org/index.php?action=profile;u=1080044
0xDaeb3f47f60FE496A0828DAA3939c168c971367B