EtherInc ICO
The Blockchain is a rapidly growing technology that is engulfing every possible business domain. Therefore, many reports published have predicted a huge rise in the Blockchain market. According to reports, the Blockchain market is expected to extend to over 20 billion dollars by 2024. It is counted in one of the most promising new technologies that are hoped to change the future of businesses and the internet.
Basically the rise of cryptocurrency and subsequent attention brought to blockchain technology has prompted nearly every industry to evaluate the benefits of integrating the technology into their operations. One such firm at the forefront of blockchain innovation is EtherInc
ABOUT ETHERINC ?
EtherInc or einc is designed to create a unique protocol for building, managing and running decentralized apps and organizations. The aim of this blockchain solution is to empower entrepreneurs all over the world to build and operate decentralized firms that are free of restrictions, expensive intermediaries and extend across borders. This collaborative approach will help push more value into the products and also increase trust and resiliency in the company. EtherInc intends to be available all over the world to entrepreneurs wherever they need this critical service.
Vision
Decentralized disintermediated organisations powered by blockchain and smart contracts are more efficient than centralized organisations. So they'll be able to create better products or services at lower rates for users, thus, leading to mass usage. However, They need to make the current system of incorporation of an organisation completely decentralized and standardized.
HOW DOES IT WORK?
SOLUTION OFFERED
ETHERINC is building solutions for the decentralized startups. The concept of borderless, trustless, permissionless and transparent organization based on the cryptographic proof is being put forward by the team. The decentralized app created by the team is based on the ethereum blockchain. Smart contract protocol is utilized on the platform for execution of the tasks.
Proposal based execution of tasks are carried out on the platform. 17 different kinds of proposals are available on the platform which is divided into two categories; voting based proposals and grade based proposals. There are inbuilt protocols for the cross-organization communications.
In so many cases all the costs and complications associated with the start-up, made many dreams to be missed. EtherInc eliminates all legal, operational, and financial requirements to create a new startup. To start your company, all you need to do is select the first name, and you can set up your BL blockchainchain company. Then you can add the founding members, and then start assigning roles to your team. As part of creating your team, EtherInc allows you to issue shares to your founding team, with a unique voice based on percentages. This allows you to freely distribute property rights without borders, which allows you to attract various experts to your company. You can also specify how specific actions in your company will be launched or resolved, concluding smart contracts.
In the case of cooperation, EtherInc offers a voting platform in which business owners can create a company proposal for voting. The voting process is carried out in a very safe way, which can not be counterfeited. The received offers can then be entered into smart contracts, with payments triggered only after all conditions in the contract have been met. Another well-known way that EtherInc intends to stimulate business to grow on its platform is to provide a new protocol for crowdfinding. Using smart token token contracts, you can raise funds for the development of your company from anywhere in the world.
ETI Tokens ICO Details
ICO sales pre commenced: 05/07/18
ICO sale pre ends: 05/15/18
ICO sales start: 05/25/18
ICO sale ends: 06/25/18
Coin symbol: ETI
Total supply of coins: 997,528,142 ETI
Number of coins in coinsale: 450,000,000 ETI
Price of ETI $0.10
Soft cap $ 1,000,000
Hard cap $ 22,000,000
EtherInc Coin Distribution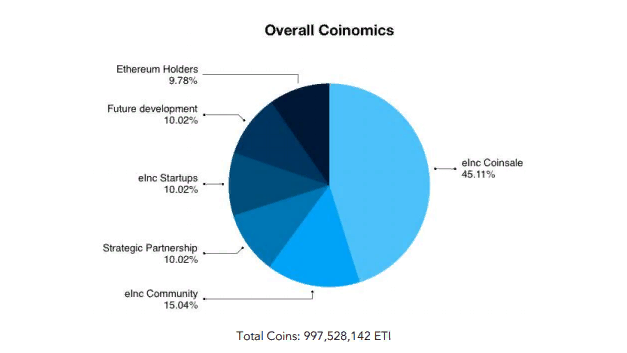 97,528,142 ETI will be distributed to Ethereum holders who had ETH in their wallet balance at the time of the fork in the ratio 1:1.
100,000,000 ETI coins have been set aside for EtherInc Startup Fund to support startups that register their organization on einc.io
450,000,000 ETI coins will be available for sale in the eInc Coinsale.
100,000,000 ETI coins have be allocated for Strategic Partnerships such as
partnership with other Wallet partners to include ETI and for partnerships that help further build and foster the ETI ecosystem.
Only 150,000,000 ETI coins have been allocated for eInc Community. These coins will be used to reward the founders, team members, advisors, and fund the product development, marketing, promotion, awareness, airdrop, bounty and referral campaigns for the EtherInc platform, (30,000,000 ETI) will be company reserve for miscellaneous operations.
100,000,000 ETI coins will be assigned for EtherInc future development and will be vested for 5 years (33.33% released in Year 3, 4 and 5).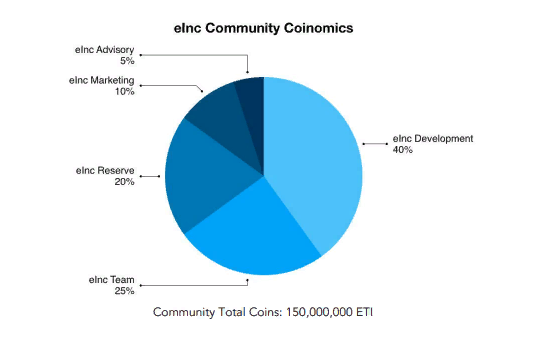 60,000,000 ETI coins will be available for development of EtherInc.
37,500,000 ETI coins will be available for Team (will be vested for 6 months post crowdsale).
30,000,000 ETI will be company reserve for miscellaneous operations.
15,000,000 ETI coins will be available for marketing, bounty and airdrops.
7,500,000 ETI coins will be available for advisors.
Roadmap
Q3 2017
eInc DApp
● eInc DApp launched on Ethereum blockchain
● Launched Etherinc.org — eInc organisation explorer
● EtherInc blockchain Research started
Feb 13, 2018
EtherInc Blockchain Launched
● Release of the EtherInc blockchain source code
● Launched 7 public EtherInc blockchain Mainnet nodes
● Launched 3 public EtherInc blockchain Ropsten nodes
Feb 24, 2018
EtherInc Services Launched
● EtherInc Wallet launched
● EtherInc blockchain API (MAINNET) launched
● EtherInc blockchain API (ROPSTEN) launched
Feb 27, 2018
EtherInc Services Launched
● EtherInc blockchain Network status (MAINNET) launched
● EtherInc blockchain Network status (ROPSTEN) launched
● eIncMeta Chrome extension launched
Mar 06, 2018
EtherInc Public Mining Started
● EtherInc (ETI) Public mining started
● Some Mining Pool listed EtherInc
Q2 2018
Coinsale
● EtherInc Community building
● Coin sale started
Q3 2018
Exchanges & Listings
● EtherInc Exchange listing
● Partner with wallet providers to include ETI
● Invite startups to conduct ICO using EtherInc blockchain
Q4 2018
dApp Marketplace Launch
● eInc dApp Marketplace Launch
● eInc startup portal launch to select startups
based on community voting
● Development of eInc dApp for Marketplace will start,
Like: DAICO, HR dApp, Payroll dApp
Q1 2019
Diplomacy Begins
● Diplomacy begins to partner with countries to get
eInc organisations a legal status
Q2 2019
eIncNS & eInc Startups
● eIncNS (eInc Name service / organisation registry) Launch
● eInc startup fund launch in collaboration with incubator programs globally
Q3 2019
Research
● Research begin on new DAO models
Q4 2019
Awareness
● Campaigns to educate people about advantages of eInc Organisations
● Partnerships with universities to educate eInc organisation structure
TEAM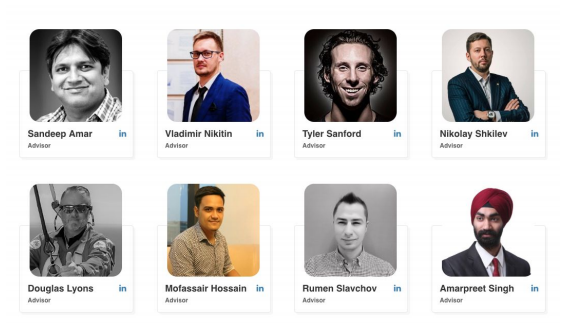 FOR MORE INFORMATION PLEASE VISIT THE LINKS BELOW;
Website : https://einc.io/
Whitepaper : https://cdn.einc.io/assets/files/einc_whitepaper.pdf
Facebook : https://facebook.com/eincofficial
Twitter : https://twitter.com /
Telegram : http://t.me/eincHQ
Author: BrainerdPaul
BitcoinTalk profile link: https://bitcointalk.org/index.php?action=profile;u=1680409
Einc Add: 0x9dECb821218eaea2b7Ba9862B80c701C1AEc77eF
ETH ADD: 0x1461b1E13ac15B849B8fa54DcFa93B3961992642