Cryptonity – The Future Crypto Community Exchange
Introduction:
Cryptonity is a unique cryptocurrency exchange, it includes all possible tools to ensure the most convenient trading of your cryptoactive assets. Moreover, it was created to unite the community of crypto enthusiasts. Creating the Cryptonity platform , the developers are aimed at improving the current crypto-currency exchanges systems in various ways. The project team is going to create a complete, secure, transparent and collaborative platform for the exchange of cryptocurrency. 
The developers will provide an opportunity for any user of the platform to use its unique tools to ensure complete security of customer funds. 
Benefits
Today on the market there are several types of cryptocurrency exchanges, representing large and small players.
If we talk about small exchanges, then it is worth noting that they absolutely do not care about their customers and their user opinion does not depend on themselves. There is no mutual relationship between the exchange and users. The main thing that they really care about is making profit and that's it. Basically, all transactions made by the exchange remain in the shadows, therefore, customers can not trust such an exchange. Large amounts are charged for listing a particular coin. 
Cryptonitysolves this problem: the exchange will not have any intermediaries and it will be based on smart contracts to ensure all transactions, which ultimately will give this exchange tremendous advantages over centralized types of exchanges - the lack of a centralized server. Each user will be able to manage their cryptoactive assets as he pleases. The developers plan to create their own blockchain after the successful completion of ICO. 
As for large cryptocurrency exchanges, then you should focus your attention on the problems of regulation, the authenticity of the existence of the company itself, the presence of a bank account and support for Fiat, as well as security problems and the availability of insurance in case of theft of funds, the presence of any feedback from technical support and finally on the transparency of the exchange itself. 
Cryptonity solves this problem: security is one of the main tasks that the team faces. Interacting with the most famous experts in the field of security, developers are planning to create the most secure system. Cryptonity Platform  will be checked twice a year by independent security companies and report the results to all users, which will increase trust in the exchange and make the ecosystem more transparent. Also, the developers are planning to create an insurance policy that, in the event of a hacker threat, will cover all losses of the exchange customers. To accomplish this, the developers plan to reserve about 7 million XNY tokens in a cold wallet, whose address will be available to everyone. 
How does Cryptonity differ from other projects ?
Integrated "cryptosystem". The development team provides its users with the most ergonomic and efficient trading tools.
The release of its own unique token, which acts as a means of payment and a platform engine.
Users who own the Cryptonity Token (XNY) receive the lowest fee on the market.
The future development of Blockchain's own technology and decentralized sharing with the community through a rewarded program.
Security and insurance. Providing users with the most secure trading platform working with the best security professionals on the market, double checked by independent security companies.
The first is a cryptobirth that provides full insurance for returning users in case of losses.
The central trading platform for the community. Involve the crypto community in the evolution of the platform to meet their needs and requests: developed functions, coins to be listed, etc.
Responsive multilingual customer service, low rates and a fully transparent policy.
Many opportunities to participate in the development of the project. Including: "Forks", "Airdrops", "Staking Rewards" and "Masternode" to be implemented 
The main feature of Cryptonity
High-performance ergonomic tool for trading
Low commission for users with Cryotinity Tokens (XNY)
Security and insurance program
The opportunity to work with security experts and be audited every two years
User involvement in relation to platform development
Responsive and multi-language customer support services
Cryptonity is present, with the aim of providing the most comprehensive, safe, transparent and collaborative exchange platform on the market.
Cryptonity Exchange will release its own token with the name Cryptonity Token and exchange plans to set up its own blockchain in the near future.
The total allocation of tokens will be 100 Million and will be fixed and the price of tokens will depend on the utility which is a good thing compared to those who reduce the number of coins by burning them to gain popularity among the public.
Information about the project token:
The platform token is the ERC-20 standard marker based on the Ethereum blockchain - XNY. 
 Token holders 50% discount on all transactions on the exchange.
Token: XNY (ERC20)
Public Sale: Oct 31, 2018 - Dec 31, 2018
Main sales: from November 1 to November 30, 2018 ( Bonus + 10% )
Total will be released: 100.000.000 XNY
Total will be allocated for all sales rounds: 60.000.000 XNY
Softcap (min): $ 500,000
Hardcap (max): $ 20,120,000
Token price: 1 XNY = $ 0.23
Deposit: ETH, BTC, BCH, LTC
Minimum deposit: 0.05 ETH
Rating - 4.4 (ICObench)
All not sold tokens will be burned. 
Residents of the United States can not participate in sales. 
Distribution of proceeds:
60% on the further development of the platform
20% allocated for marketing needs
10% for administrative and legal operations
10% for insurance claims.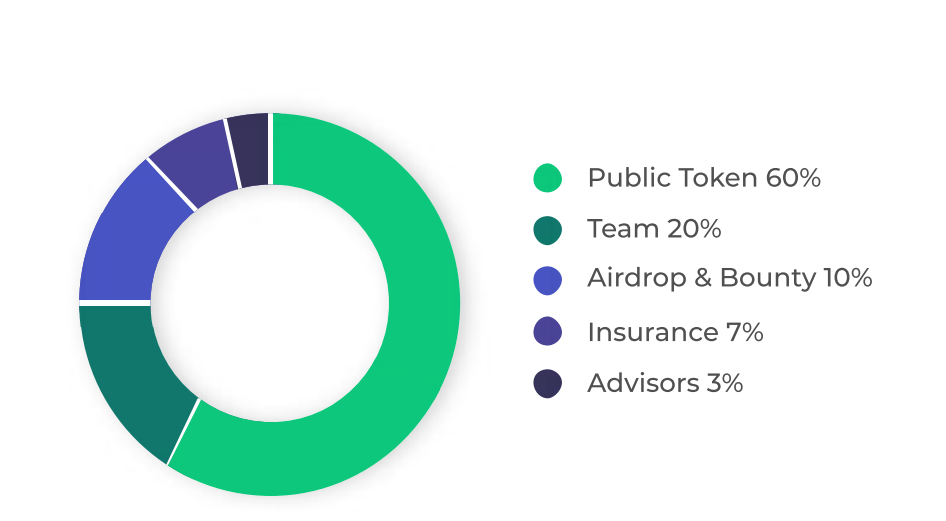 Total
Cryptonity is a unique project that serves as an excellent service for cryptocurrency exchange. Moreover, it was created to unite communities of crypto-enthusiasts. The main task of the platform is exchange, which is respected by the community. The team intends to provide the market with the most complete, safe, transparent and collaborative exchange platform. The project has a good rating that adds confidence. The team includes specialists with extensive experience in this field - this can help attract more interested users to the platform.
We are pleased to announce a partnership with latoken.com Exchange, XNY will be registered with all trade partners of BTC ETH USDT and LA right after the sale of tokens and you will be able to purchase tokens directly at the LAToken Exchange Launchpad during the sale !!!
Roadmap
January 2018
Confirmed start of the Cryptonity Exchange project.
Legal consultation and creation of our French Company.
Start development of Cryptonity Exchange platform and mobile apps.
August 2018
Cryptonity Initial Coin Offering website released.
WhitePaper circulating into general public.
September/October 2018
Cryptonity.io Bêta Version and mobile apps released with active trading.
Trading pairs will be announced at launch.
November/December 2018
Initial Coin Offering (ICO)
January 2019
Cryptonity Tokens (XNY) Distribution (15th, Jan)
Cryptonity.io Official release with Cryptonity Token (XNY) as trading pair.
Q2 2019
Start of "Heroes" Program and "Coin of the Month" listing system.
Optimization of our infrastructure, development of technical teams around the world and constantly updating our platform.
Negotiations with organization where we operate that can provide a license Crypto → Fiat → Crypto (France, Malta, Philippines).
Q3 2019
Evaluation and integration of "Staking" rewards for our users.
Evaluation and integration of "Masternodes" feature for our users.
Evaluation and integration of Airdrop feature, Forks support, users security features etc.
Implementation of Trading Competitions and partnership for security audits.
Implementation of "Feature Request" and "Coin Request" sections.
Q4 2019
Opening our offices in Asia.
Development of our own Blockchain and our decentralised platform with the contest for developers.
Evaluation and integration of strategy and analysis tools, such as "Portfolio Tracker", etc.
Q1 2020
Service extension as an ecosystem of centralised and decentralised applications around cryptocurrency trading, decentralised services (Trading, VPN, Chat), Fiat and many more areas.
Integration and start of our 24/7 Customer Service Live Chat and Phone Assistance. 
If you want to know more about Cryptonity Exchange, Below are some useful links where you can find more pieces of information
Website : https://tokensale.cryptonity.io/en
Whitepaper : https://tokensale.cryptonity.io/storage/Whitepaper_EN.pdf
Facebook : https://www.facebook.com/CryptonityExchange
Twitter : https://twitter.com/CryptonityEx
Telegram: https://t.me/CryptonityExchange
Ann Thread : https://bitcointalk.org/index.php?topic=5005070
Author
Forum Username :  koralan
Forum Profile link : https://bitcointalk.org/index.php?action=profile;u=942300