CoTrader
CoTrader is a fully decentralized platform which enables users to invest in and manage funds onchain. This platform provides smart funds which are managed by fund managers who trade the fund assets on decentralized exchanges (DEXs).
Through their DEX exchange tokenization ecosystem they are offering complete transparency in fund investments under the blockchain technology. They are also offering liquidity, asset control, security, privacy and proven ROI.
On providing successful fund managing by fund managers, they get some percent of profits what they made for their investors. Investors have that control on their money where they allow to deposit and withdraw from funds anytime.
How It Works?
CoTraders can invest together with the best proven fund managers. Unlike competing platforms, CoTraders investment funds can be managed without ever sending the funds to anyone. Fund managers' fees and performance history are transparent and proven on the blockchain, Fund managers who trade the fund assets on decentralized exchanges (DEXs).
Successful fund managers receive a percentage of the profits they have made for their investors. Investors remain in control of their money and are able to deposit and withdraw from any fund at any time, They Copy the crypto & ICO investment s of the Top traders to get the same gains that they do without even necessary knowing what they are trading.
What problems does the platform solve?
CoTrader Now on the expanses of the network you can meet several hundred investment platforms that offer a certain type of services to their customers. Someone offers investment in real estate, gold, technology and more.
However, all these spheres do not give a huge increase, and the risks are always high enough. The best investment now is the purchase of a crypto currency, but it should be understood that each person can face the following difficulties:
It is difficult to understand where to invest your money. In fact, now you can find several thousand different currencies and tokens, but to understand where to invest your money is extremely difficult. For example, not all currencies will go up, and some may even cease to exist, so this issue must be carefully considered.
2.No basic knowledge of the storage of crypto currency. Many people do not protect their wallets in any way or are even being led to deception. Before you start working with crypto currency, you should find out how to secure yourself and understand what fraudulent schemes are currently in existence.
It is not possible to believe the information. Also, one should not believe the information that is in open sources. After all, many companies that release tokens, brazenly buy advertising articles.
Platform CoTrader is able to solve all these problems, because its activities are open and work is built on blocking technology, which excludes the possibility of deception of users.
Features
Smart Funds – It is a core part of this CoTrader platform. This is an investing platform where users can invest by depositing COT token into the fund. Smart Fund is an Ethereum based smart contract system where fund managers, investors and shares that can be traded. Investors who invests in fund is awarded with some number of shares from his total ownership of the fund. A platform where fund manager can trade the assets invested into the fund which makes profit for both – fund manager and investors.
Cryptographic Trader Privacy – CoTrader is providing trade security for fund managers where fund managers can hide their strategies in a short term and display it later. If they reveal their strategies earlier to the public, they may get trouble commanding significant success-fees for public information. Their strategies are being used by others that's why they must hide their strategies.
Automatic Tokenization for any Trading Platform – In this the investors can trade non-crypto assets by using CoTrader master account. The master account are holding stocks, options and any tradable records under the smart contract based smart escrow system.
Project characteristics
Name of the token: COT
Platform: Ethereum
token Standard: ERC20
Number of tokens issued: 100,000,000,000 COT
Price per token: 1 ETH = 1,000,000 COT
Payment: ETH, BTC, LTC, BCH
Soft cap: $2,000,000
Hard cap: 10,000,000 USD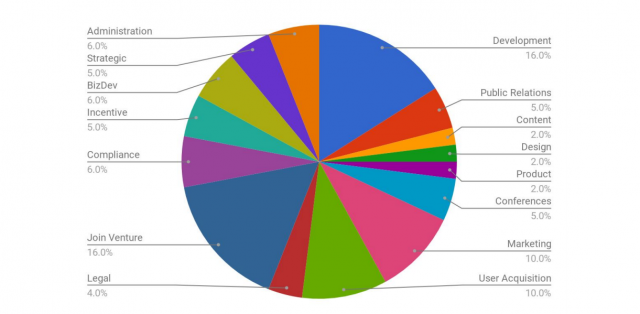 Team
Now in the investment fund CoTrader you can meet only experienced employees who have a huge trading experience in this segment. They know how the goals are set for themselves and are able to bring the project to its logical conclusion.
You can see all team members on the following photo: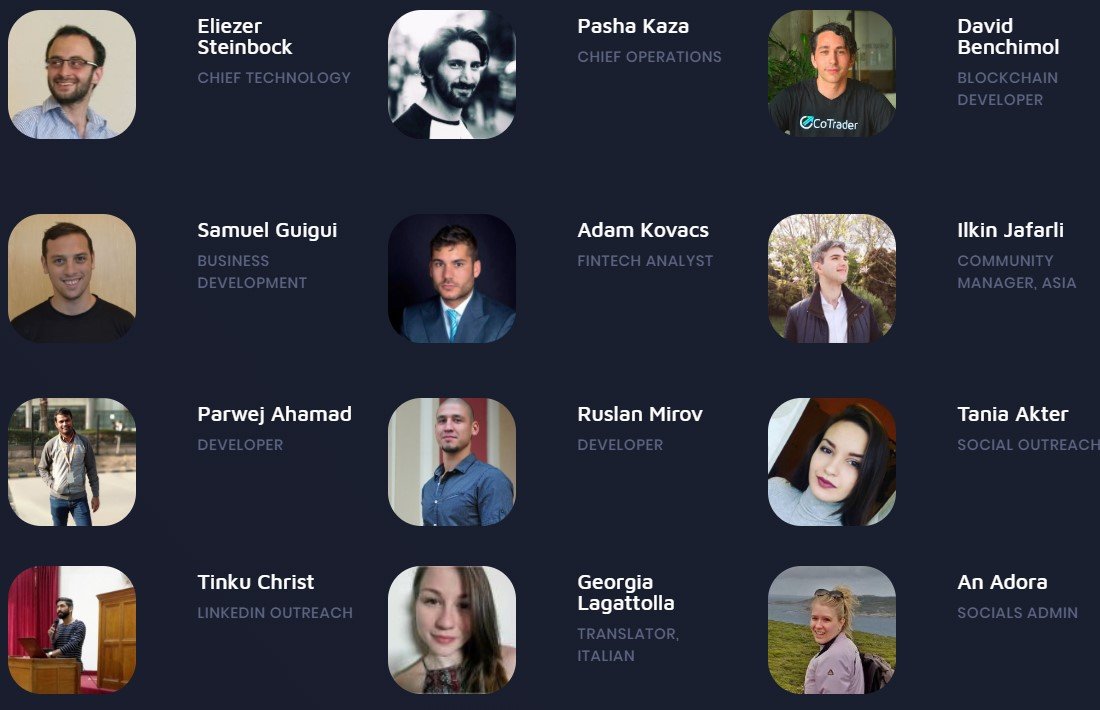 Conclusion
In my opinion, CoTrader is a revolutionary product. The idea may not be new but the scalability and the possibility to use CoTrader to tokenize and trade basically any assets like stocks, real-estate, currencies, gold, oil, etc. as well as platform's variety of features makes it unique.
Also, CoTrader will surely attract many ICO reviewers and influencers as well as investment fund managers who will be able to monetize their knowledge using CoTrader's platform.Since I consider myself an early CoTrader follower, I think the team is very enthusiastic about what they do and super dedicated to make their product successful.
CEO Gary Bernstein constantly talks to various VCs and investment funds, and participates in various crypto conferences trying to attract more attention to the platform.
The utility of the token seems reasonable and the hardcap is rather low, implying that investment-wise the project is not overvalued and has enough room for growth. The vesting schedule suggests that the team is here to make CoTrader what it is supposed to be.
More info:
Web: https://cotrader.com/
White sheet: https://cotrader.com/cotrader-whitepaper-en.pdf
Facebook: https://www.facebook.com/cotrader
Telegram: https://t.me/cotrader
Twitter: https://twitter.com/cotrader_com
BTT: https://bitcointalk.org/index.php?action=profile;u=1662124