Zerostate - The Emotional Intelligence Platform Powered By Blockchain
PRESENTATION
A storm has hit the investment market which we are not going to recover from. Crypto investment is that storm. With strict capital controls in place by most countries to control the flow of money and charge high taxes, cryptocurrency gained usage in circumventing capital controls and taxes, leading to an increase in demand. Cryptocurrency has been able to present an easy to use digital alternative to fiat currencies. Offering frictionless transactions and inflation control, investors have been prudent enough to add these currencies in their diversified portfolios as an asset, as the size of the market does not represent a systemic risk. Cryptocurrency employs the use of cryptography that assures high-security processes and verifies transactions personal to each user. Hence, counterfeiting and anonymous transactions are impossible to achieve.
While this revolution is gaining wide acceptance, ZeroState, the first of its kind service, whose technical basis of its work is the growing popularity of emotional intelligence.
Check out this video presentation
About Zerostate
ZeroState is the world's first emotional intelligence platform. It helps advertisers around the world increase the loyalty of their customers by analyzing their emotional involvement.
Emotional intelligence (EQ) is what we feel. It is the feelings that are born inside us long before our brain can assess the situation, apply social filters and decide whether it is «good» or «bad».
ZeroState uses an application to collect such feelings. The users are motivated to share as they learn about a new product and earn money at the same time.
A continuous flow of tokenized feelings from our users creates an independent database of opinions on products and services.
Tokenized feelings represent knowledge about emotional ties and connections that are core to the relationships.
The path to customer loyalty lies through emotional involvement. If customers think about your brand, they buy it. Manufacturers highly value such feedback and are willing to pay for this kind of information.
Our platform is the link between the manufacturer and the user.
GOAL
The goal is to generate feedback from customers, attract their attention and increase sales. Users receive and zsc from advertisers to write a review. ZSC can be replaced by ETH or traded in the Crypto-currency exchange. every month ZeroState can use 2 hundredth of its profit to buy tokens, increasing their quality.
THE PROBLEM AND SOLUTION
Location of ZeroState in a competitive matrix In our opinion, the conditions conducive to the development and growth of the Company in a highly competitive environment are: Absence in the marketing market of a platform with objective estimates Data The threshold of the industrial revolution, which will further devalue productive work. ZeroState - an alternative solution to the labor market, users will be able to receive money by generating their feelings and emotions. Difficulties in the global banking sector. Banks are increasingly struggling with the task of returning money from deposits to the market through consumer lending. ZeroState is an alternative tool for the directive return of funds from corporations to consumers with the additional benefit of gaining loyalty and trust from these consumers. For a long time, after the Pokémon, there is no explosive product or offer. The availability and cheapness of the BigData tools for storing and processing information. Competitive advantages of ZeroState: The possibility of forming an unlimited number of different ratings.
HOW DOES IT WORK?
ZeroState Core calculates the value of each state in real time, including the number of states for the last month, the revenue from advertisers, the number of new users, etc. It is at this price that the company will offer advertisers a ZSC token making it always cheaper for them to use ZSC for advertising than fiat currency. The same price will be used to buy tokens from users and investors.
Advertisers buy a ZSC token to launch an advertising campaign through the application. Their goal is to get feedback from customers, attract their attention and increase sales.
The ZeroState platform already has an application that can be used in any country in the world. Since 2018, it has been downloaded 60,000 times and has 30,000 active users (MAUs).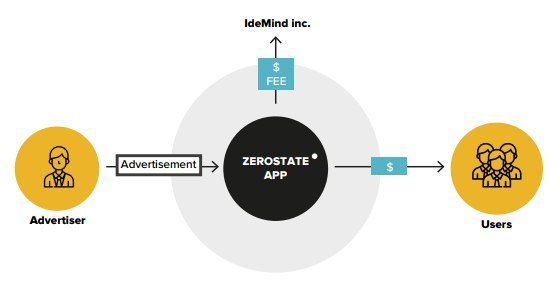 BENEFITS FOR THE WORLD
Search engine on a new level
People search for «what» a thing is on Google. We will shift the focus to «how» it feels to give the user what they are looking for. By establishing partnerships with iTunes and Litres, we developed an emotional search add-in capable of suggesting «fun» music or a «wise» book. The same can be applied to online shopping platforms Amazon, E-bay, Alibaba, etc. to upgrade them to E-Commerce 2.0.
Social network 2.0
On social networks you can only search for people by their interests, but they do not always reflect their personality. A ZeroState social network will make it possible to find like-minded people. If you live efficiently, you need only to type «efficient» to find people who do the same.
Marketplace or Uber-like advertising platform
Users get real money for their reviews out of the advertising campaign budget. It increases the number of reviews overall, as well as the share of sincere, unbiased reviews, and provides an opportunity to form an objective opinion about the product.
BENEFITS FOR THE USER
Free participation in promotions
Becoming a ZeroState user is simple: just install the application and sign up for free. Looking for information and participating in advertising campaigns is free, too
Bonus for reviews
An advertiser organizes an advertising campaign and determines its budget. A user becomes a participant automatically when they leave a review or confirm someone else's. For each review or confirmation their account is credited with ZSC.
Unbiased opinion
Users get bonuses for all reviews, including unfavorable ones. When customers are not forced to praise a product, we can obtain a fair and full evaluation.
ZeroState means personal growth for its members, as well as access to data on products and services.
Multiple ZeroState tools will help you find:
BENEFITS FOR THE ADVERTISER
What's the point? First of all, it is to force the consumer not only to know about the product, but also to think about it. It works like this: using simple levers of emotional influence, the advertiser creates a stable emotional chain, the links of which are the goods and any bright feeling: friendship, patriotism, in fact - anything. This is how the association with any product is called. The effectiveness of this scheme is based on its novelty and, to a greater extent, on the ultimate simplicity.
ZSCOIN TOKEN
The system seamlessly blends fiat and token economies, making it possible to use ZSCoin for settlements on more favorable terms. When the number of ZeroState users reaches a certain level (approximately 4 million +/ - 500 thousand depending on the scenario), ZSC becomes the main means of settlement between advertisers and users. Putting an advertisement and partaking in a crusade will be mediated by tokens.
The price of ZSCoin is directly linked to the number of active users and continuous advancements. The more users and advancements there are, the more ZSCoins are purchased for settlements in the market. As the amount of tokens is limited and the number of users is developing, the token price will develop also.
In order to distribute tokens, ZeroState will release 100,000,000 ZSC by running a brilliant contract on Ethereum. The brilliant contract will exchange ZSC to ETH consequently at the rate established at the time of dispatch.
After the ICO, ZSCoin tokens will be formally entered on the stock exchange where they can be freely exchanged for other tokens. After that we can begin developing our own blockchain infrastructure and re-issuing ZSCoin tokens.
TOKEN DETAILS
Token — ZSC
PreICO Price — 1 ETH = 3200 ZSC
Price — 1 ZSC = 0.00047 ETH
Bonus — Available
Bounty — Available
MVP/Prototype — Available
Platform — Ethereum
Accepting — ETH
Minimum investment — 100 ZSC
Soft cap — 4,000,000 USD
Hard cap — 20,000,000 USD
Country — Belize
Whitelist/KYC — Whitelist
ICO DISTRIBUTION DETAILS
ZeroState ICO will have two stages when the company tokens will be offered for sale with special discounts.
Presale
Starts on — March 21, 2018
Ends on — May 31, 2018
Presale plan: $2,000,000.
Tokens Presale package volume: 5 million tokens.
Presale bonus program
Presale bonus: 50% (55% in case of large volume purchases)
The volume of the bonus tokens for the Presale distribution of the participants: 2,5 million tokens.
Thus, with the purchase of 100 ZSCoin tokens, the participant at the Presale stage actually receives 150 ZSCoins tokens.
Public Token Sale
Starts on — June 21, 2018
Ends on — August 31, 2018 (it is possible to extend the Token Sale period).
The minimum target amount to be raised during the Token Sale is $4,000,000.
Tokens Token Sale package volume: 59 million ZSCoins tokens
THE ROADMAP
MEET THE AMAZING TEAM
Be a part of this incredible project. Download the whitepaper for the full scoop.
Till next time…
For more information, please visit:
Twitter: https://twitter.com/ZeroStateDapp
Facebook: https://www.facebook.com/zerostate.info
LinkedIn: https://www.linkedin.com/company/zerostate-inc
Instagram: https://www.instagram.com/zerostate.app
Medium: https://medium.com/@zerostate
Telegram: https://t.me/zero_state_news
YouTube: https://www.youtube.com/channel/UCxTbb5czvsPtmYnsxHRZQnA
Whitepaper: https://zerostate.io/zerostate_whitepaper_en.pdf
Website: https://zerostate.io
Author: TheMichaelMatch
My BitcoinTalk Profile: https://bitcointalk.org/index.php?action=profile;u=1326035
Disclaimer: This article was published in terms of the bounty campaign. I am not a project team member or its representative but a supporter of this incredible project.