SKYFchain: Operating Platform in the Cargo Robotics Industry
The SKYFchain operating platform makes for the provision of a disruptive solution for switching global logistic industries to unmanned systems. SKYFchain operating platform (SKYFchain OP) is the first B2R (business-to-robots) blockchain operating platform applicable globally in all sectors of a developing cargo robotics industry. As an independent blockchain-based platform opened to all industry participants, it will contain critical information for each stage of life cycle of a cargo robot. 
The SKYFchain aims at setting standards for the new industry in robotic delivery in areas such as financing, manufacturing, operations, maintenance, insurance and authorization of drones and robots in the air, on the ground and at the sea.Unmanned cargo robots in the air, on the ground and at the sea can dramatically reduce the cost of logistics worldwide and increase efficiency for industrial users and end consumers.
The SKYFchain will be first developed and tested by using the first industrial cargo airborne robot skyfdrone, which will provide SKYFchain instant access to its client base for development of unmanned business processes.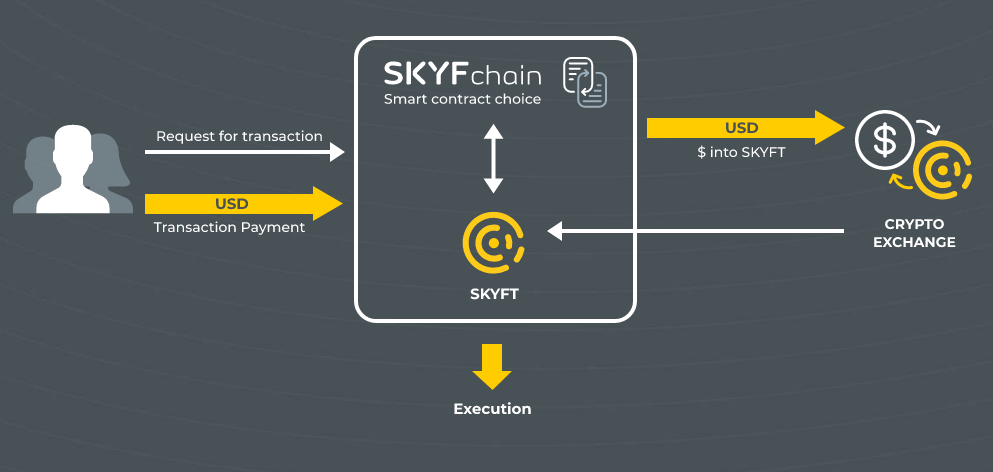 A LITTLE BIT OF INFORMATION ABOUT DRONES
Dron – in the technological context, it's an unmanned aerial vehicle. UAVs can be remotely controlled and can fly autonomously with the built-in software (flight plan), working in close connection with onboard sensors and GPS systems.In recent past, unmanned aerial vehicles had exclusively military applications, where they were originally used to destroy aerial targets and collect intelligence information. Now drones have been widely used, ranging from search and rescue operations, surveillance, weather monitoring, traffic, fire extinguishing, for personal purposes, business with an emphasis on photo and video shooting, in agriculture and even in cargo delivery services.
The first unmanned aerial vehicle was realized in 1935 using the example of the full-size biplane De Havilland DH82B "Queen Bee". It was equipped with a radio receiver and a control servo located in the back seat. Later it was used as a live target for training firing from anti-aircraft installations with the goal of training artillerymen. In total, 380 De Havilland DH82B "Queen Bee" aircraft were built. The term "drone" was born thanks to this historic event.
Integration of unmanned aerial vehicles and the Internet has made it possible to use drones everywhere in enterprises. Drones operate on IoT terrestrial sensor networks, help agricultural companies monitor lands and crops, energy companies use drones to inspect power lines and related equipment.
The great demand for commercial and private drones also caused a number of problems related to safety, regarding the consequences of collisions and loss of control. In this regard, many countries at the legislative level have introduced a number of amendments to the air code. There were no-fly zones.
LAUNCHING SKYFCHAIN BLOCKCHAIN
The road to testing and market deployment is already planned and well underway. The company has manufactured operational drones in the unmanned vehicle space. This allows it to deploy its own blockchain as the operational protocol for the fleet. The drones are now being employed in several key Russian business sectors including agriculture, oil and gas, mining and logistics. 
Russian Post is one of the company's key partners already. This is a multi-billion dollar market opportunity in its own right, and one with fewer regulations than future planned international expansions including the EU and US. 
Test flights of the SKYF drone are already underway, and have been successfully concluded as this test video shows. Several big clients have also signed up for pilots.
The most prominent of these include Syngenta AG, a Swiss agribusiness firm in the seed and chemical vertical, Avgust Crop Protection, a chemicals producer and service provider and Pony Express, the number one multi-modal logistics operator and delivery company in Russia.
The second step of sales rollout will be in Asia with a franchise model in partnership with a local partner. U.S. market expansion is on the drawing board for the next 5-10 years. 
What is the SKYFT Token Distribution?
44% of the entire token is sold in Crowdsale (SKYFT 5 280 000 000)
15% will be used for the network development fund (SKF 1 800 000 000)
120 000 000 SKYFT is used Community Development Fund, this figure takes into account 10%
9.5% are reserved
Your development team will retain 20% of the total token to control the market.
1.5% will be used for the bounty campaign to build community by giving bounty hunters SKYFT to help them spread
the word.
What is SKYFT token used for?
SKYFT is used for 2 main transaction types, namely operation transaction and fintech transaction. Let me give you an example. You want to make a transaction with skyfchain and you do not have SKYFT (the transaction is activated only by SKYFT), you just have to make the payment via Fiat USD through their Smart Contract, so that they can transfer that money to SKYFT and use this SKYFT to make a transaction for you. 
How can I participate in the ICO sale?
Step 1: You must access this website: https://www.skyfchain.io
Step 2: Click on "Get SKYFT Token"
Step 3: Log in with your e-mail and password and click on "Next"
Step 4: You fill in all your details in details like birthday, name, address, pass id, ...... Then save and wait to accept you in the whitelist. I just give you all the necessary information about the SKYFT token sale shown and how you can participate. Do not miss this because it will help you to increase your investment significantly. I hope you like it and do not forget to like and follow my channel. 
SKYFCHAIN ICO:
Date of ICO: 10-03-2018 to 15-06-2018
Token acronym: SKYFT
Price of token: 1 SKYFT = US$ 0.065
Bonus availability: Yes
Platform: Ethereum
Currencies accepted: ETH, BTC
Minimum investment: 3000 SKYFT
Soft cap: US$ 5 million
Hard cap: US$ 30 million 
For more information and to join Skyfchain, you can see the link below:
Profile Bitcointalk : https://bitcointalk.org/index.php?action=profile;u=1803026