SWIPE ICO Overview
  SWIPE Network is a decentralized data platform based on smart contracts that aggregates and analyses data across multiple apps. It processes data according to data schema specific to industry taxonomies and context.  
SWIPE network
Incentivizes users to share their data anonymously while providing data buyers with auditable data products. It enables fair and transparent data trading between users, app developers and data buyers through a decentralized data marketplace. All data transactions are strictly enforced with smart contracts. As data sources are tracked and auditable on the ledger, data buyers are no longer have to risk purchasing low-quality data products. As part of our go-to-market strategy, SWIPE has created a Software Development Kit (SDK) containing its technology that can be integrated seamlessly. 
Swipe SDK provides a suite of marketing tools that boost app users engagement and retention. Any 3rd party app developer can install the SWIPE SDK and their users can gain access to the SWIPE network, making our solution simple to implement and scalable. SWIPE has successfully launched two lockscreen engagement platform since Oct 2016, AgilaRewards in Philippines and cepatswipe in Indonesia.
 Together with other early adopters in SWIPE Network, we have access to about a million users in Southeast Asia.

 
Swipe mobile content 
Developers are provided with a set of advertising SDK tools, which significantly reduces marketing costs. And users using the Swipe platform, providing their personal data and performing certain tasks of applications, are rewarded in the form of company tokens, which they can exchange for goods and services in everyday life.The products of the development team have proven themselves by providing services to users of the Philippines and Indonesia. Currently, the number of active users of networks is close to one million, applications for download are available in the Google PlayStore.
User privacy is implemented through end-to-end encryption, a Smart contract and re-encryption of data, and all this is supported by the User Agreement.
Current data monetization issues
Although combining and comparing more data sets from multiple sources (applications) generates a complete picture of the user, his profiles and behavior, the process of exchanging data progresses relatively slowly. This is primarily due to the following factors:
Lack of agreed incentives (data providers do not receive adequate compensation compensation for the information provided).
The lack of trust between suppliers and buyers of data.
A centralized mediation model monopolized by industry leaders such as Acxiom, Experian, Epsilon, and others.
The positioning of centralized intermediary companies as trusted parties that collect, manage and control the collected data.
The Forrester study shows that the lack of transparency in the data market leads to wasted funds for poor quality and improperly targeted advertising campaigns. According to forecasts, by 2021 they will account for up to $ 10.9 billion.As a rule, data is sold without the knowledge or consent of users (data providers). In addition, up to 30% of the information in user accounts may be inaccurate or intentionally incorrectly specified.The true data owner (user) does not receive any reward for the subsequent use of his personal information and often faces a lack of transparent control of his personal information or the inability to refuse to share it.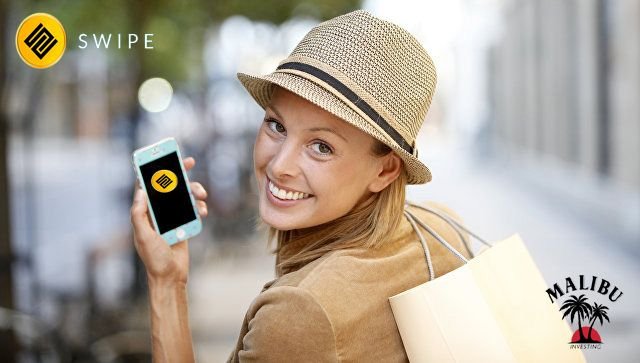 Overview of the objectives and features of the project
Swipecrypto is a concept for a decentralized blockchain platform for monetizing user data collected through mobile applications. The system will process and analyze the received information with the subsequent provision of data to customers.Currently, application developers are faced with the problem of lack of integrity and quality of data obtained from numerous intermediaries who charge a commission for their services. The platform will allow developers to use the built-in SDK with the ability to integrate it into any application.It is enough to pay attention to the incoming advertising mailings to the mailbox, even from sites and services that the user has never visited directly, but used the Google search engine.Whenever a user searches for something on Google or does something on Facebook, his data is recorded. 
They are then sold to various information consumers who use it as part of their targeted advertising campaigns. This is both good and bad. On the one hand, the user sees offers that may interest him, but at the same time, all his actions on the Internet are tracked and stored. And he can not control this data.Swipecrypto will allow users to decide what information to share with data buyers, which costs to anonymize, how to reward users for sharing personal information.Buyers of data, in turn, will be able to use Swipecrypto's absolutely transparent decentralized market to acquire the necessary information with the ability to see where it came from.
Key benefits of the platform
The list of project strengths includes:
Providing data control in the hands of users (the ability to customize the level of privacy and data exchange policy).
End-to-end encryption (secure data management).
Smart contracts (data requests and distribution of remuneration are managed and recorded in a transparent manner).
Re-encryption of data (data is re-encrypted for access by the requestor in the case of permission to transmit them).
Cepatswipe
Country - Indonesia.
The launch date is May 2017.
Partners is the leading local digital advertising company Alternative Media Group (launching the joint Lock Screen Rewards application).
The number of users is more than 420 thousand.
Advertising efficiency - up to 80% increase in the number of participants through the referral users system.
Development team
The project is developed by the Singaporean company SwipeCrypto Pte Ltd., which has offices and representative offices in Singapore, Indonesia and the Philippines. The group of specialists implementing the idea includes industry leaders with experience in the technological, analytical, research field, as well as in marketing and business operations, including:
Clifford Lim (co-founder and CEO, has work experience with IBM and Lenovo, is also a co-founder of the SwipeRich block platform);
Quai Chong Shin (co-founder and head of security, previously worked at Konica Minolta and Intel);
Ian Weyer (co-founder and COO, previously worked at McKinsey & Company and LG);
Joshua Ho (consultant, former Uber executive director and current co-founder of Singapore-based digital asset management company QCP Capital);
Yaron Welner (consultant, technical director, Kyber Network).
 Detailed information:
Website: https://swipecrypto.com
Whitepaper: https://swipecrypto.com/docs/SWIPE_whitepaper_rev1.0.pdf
Telegram: https://t.me/swipecrypto/   
author
 MY NAME BITCOINTALK: Yaroslav_    
Bitcointalk: https://bitcointalk.org/index.php?action=profile;u=1901059