IRONX

Today many enterprises see the advantages of using blockchain technology and try to implement it into their ecosystem, and to issue personal digital tokens already in an effective business with loyal customers. For the adoption of digital money by users of such platforms is only a matter of time and such cryptocurrencies in the future will be able to bring them both discounts, bonuses and profits to traders.
Now there are very few exchanges that are licensed and can be safely used for secure exchange, there is also the problem of direct purchase of their fiat money directly to the cryptocurrency on the platform, it is necessary to use additional sites for this.
There are already many examples when exchanges were closed or moved to other countries due to the lack of permission from the state, some were closed and disappeared with the funds of their clients. Even on well-established top platforms, there are the following problems: weak security, low liquidity of digital assets, centralization, slow operation of the support service.
Some people are still afraid to enter the digital market and wait for any approval from the government and keep traditional money almost under the pillow, although cryptocurrencies can give a solid profit of 100% per year and much higher.
Probably everyone wants such shortcomings to be eliminated as quickly as possible and it is taken for a platform called IronX Exchange.
Thus, IronX Exchange is a trading platform with high security for traders, obtaining a license and the right to work in countries. The developer of this idea is IronFX Group, which is one of the leaders in online trading, in partnership with the EmurgoHK company-which has experienced programmers of the blockchain industry in its team and has already created a decentralized Cardano platform.
Iron Exchange will use the Distributed Ledger technology that enables the exchange of fiat to cryptocurrency and cryptocurrency together. Also, users get access to traditional online trading through a common trading portal, which will increase the awareness of new users about digital assets.
Thus, the exchange will be regulated and has already received a license in Estonia, it is planned in the near future in Gibraltar and Malta. This increases the trust of users and their number, reduces the risk of fraud, clear tax rules will be added, a wide choice of buying cryptocurrencies for fiat money will be provided.
The exchange platform will be implemented on Alphapoint technology, which has the following features and advantages: high number of transactions per second - can reach up to one million; clear, simple and convenient interface for each user; high performance; round-the-clock support service in several languages.
I can fully say that Iron Exchange will become a centralized exchange, combining the assets of both traditional products and the digital market, which has all the legal rights to carry out its activities and transparent reports for its users. Now the sale of tokens of this project is carried out and almost $ 25 million has already been collected, it will end on December 15, 2018.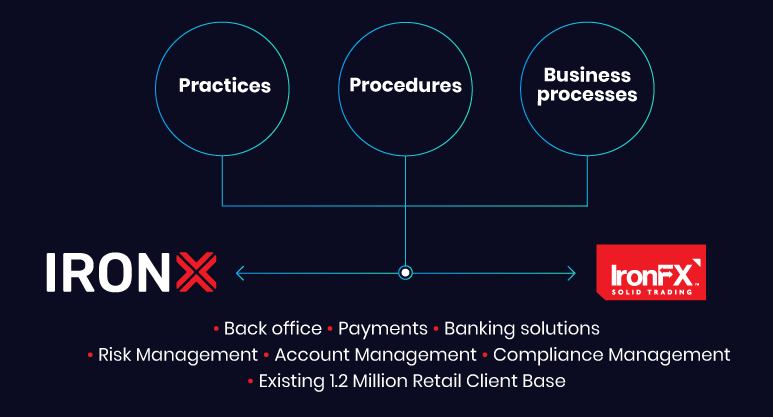 Website:https://ironx.io/ru/
Whitepaper:https://ironx.io/IronX_WP_Version_1.2.pdf
ANN Thread:https://bitcointalk.org/index.php?topic=5059654.msg47422752#msg47422752
Facebook: https://www.facebook.com/IronXExchange/
Twitter: https://twitter.com/IronXExchange
Youtube:https://www.youtube.com/channel/UCEo_JHbwqQWXRVfpqxcBZAQ
Linkedin:https://www.linkedin.com/company/ironx-exchange/
Telegram:https://t.me/IronX_exchange
Instagram:https://www.instagram.com/ironx_exchange/
ghklinc
https://bitcointalk.org/index.php?action=profile;u=1958812
0x1c0B29CeC0445D2445b8b6C4531854d1C01FbBe9