NEIRONIX
Neironix is the first independent international rating agency for investment risk evaluation in blockchain economics, where ratings are assigned to the projects automatically on the basis of mathematical scoring results, neuron networks, and multidimensional analysis of large bulk of data. The platform is designed for analysis and subsequent management of risks typical of projects with investments in projects with high degree of uncertainty.
Neironix, as a global aggregator of financial analytics for cryptocurrency markets, it allows accumulation and classification of the aggregate information into risk factors, which are interpreted for the subsequent use of scoring for ICO and blockchain projects


Mission Neironix
Neironix mission is to become a global provider of financial and analytical information about cryptocurrency markets, required for making carefully weighted investment decisions and building long-term market strategies.
We are the first developer of global methodology for risk-oriented investment process management in blockchain economics. The suggested management is based on statistical analysis of large bulk of data and risk factors.
The rating methodology of Neironix is based on the principles of international risk management standard ISO31000:2018(Е), and uses similar risk evaluation approaches for both professional investors and institutional funds belonging to the classic economy. Currently, standard ISO31000:2018(Е) is adopted in 88 countries with the highest GDP level, being a guide for risk management that, among other things, suggests variants of risk treatment at various stages of exposure to risk.
HOW IT WORKS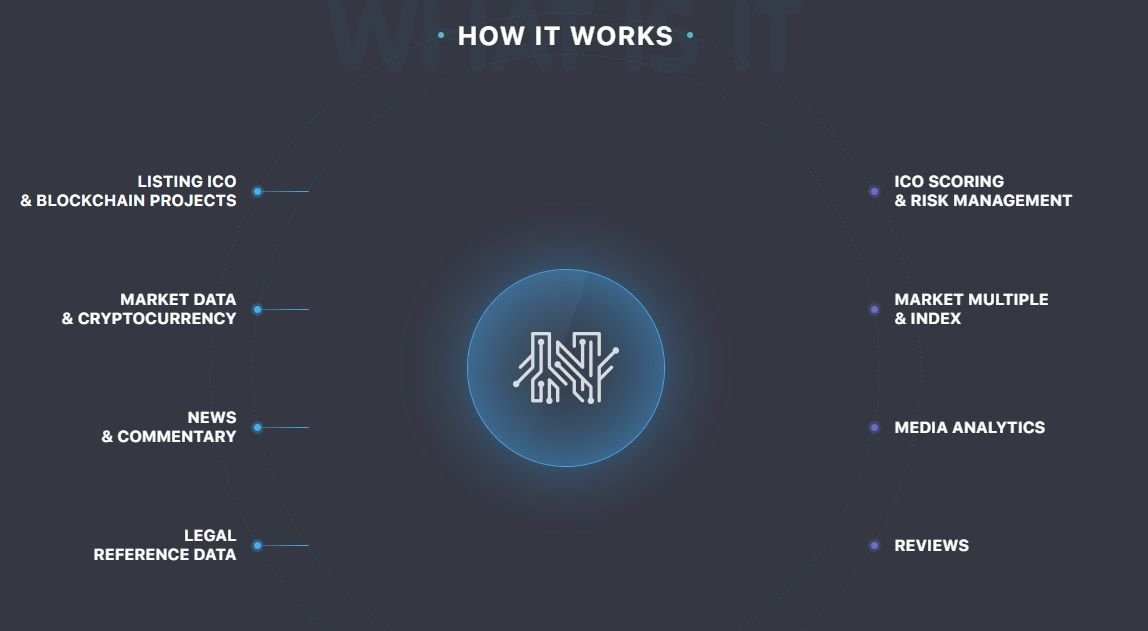 Protect Neironix, as a global aggregator of financial analytics for cryptocurrency markets, it allows accumulation and classification of the aggregate information into risk factors, which are interpreted for the subsequent use of scoring for ICO and blockchain projects.
PROMOTIONAL STRATEGY
The promotion strategy of Neironix relies on the basics of Agile Marketing — a method for flexible planning of
marketing strategies – and is based on refusal from classic long-term plans for development and spending
of marketing budget in favor of short-term iterations, as well as the possibility of introducing changes to the
strategy at any moment of time. Proceeding from the market size of 5-12 million cryptocurrency holders,
Neironix expects to occupy a substantial share in the market of analytical services and applications for
investors. The company's marketing strategy can be broken down into 3 main expenditure articles:
searching for target audience and informing about the product;
transferring potential users to the segment of real ones;
retaining users on the platform.
NRX TOKEN
We perform our own Token Sale as a method for attracting alternative investments, for fast development and
scaling of Neironix platform. For this purpose, we issue our own Utility token, NRX, on Ethereum blockchain
platform, ERC20 standard.
The abbreviated notation for Neironix token is NRX.
Issue of NRX consists of 140,000,000 tokens, while additional issues are not envisioned.
The total amount of funds raised – $31,000,000 at the relevant exchange rate of USD/ETH at the moment
of sale (68% of the issue's value).
After the end of Token Sale, all tokens unsold are burnt.
The value of one NRX token: 1 NRX = 0.001061571 ETH.
Minimal amount for a Token Sale participant: 0.1 ETH.
Currency accepted: ETH, BTC.
Distribution of NRX tokens
After holding Token Sale and Bounty campaign, NRX tokens will be concentrated in the hands of project
stakeholders in the following proportion:
Sales in the open market (68%),
Project in-house operating fund (7%),
Project founders and team (10%),
Project partners (10%),
Project advisers (3.5%),
Bounty campaign (1.5%)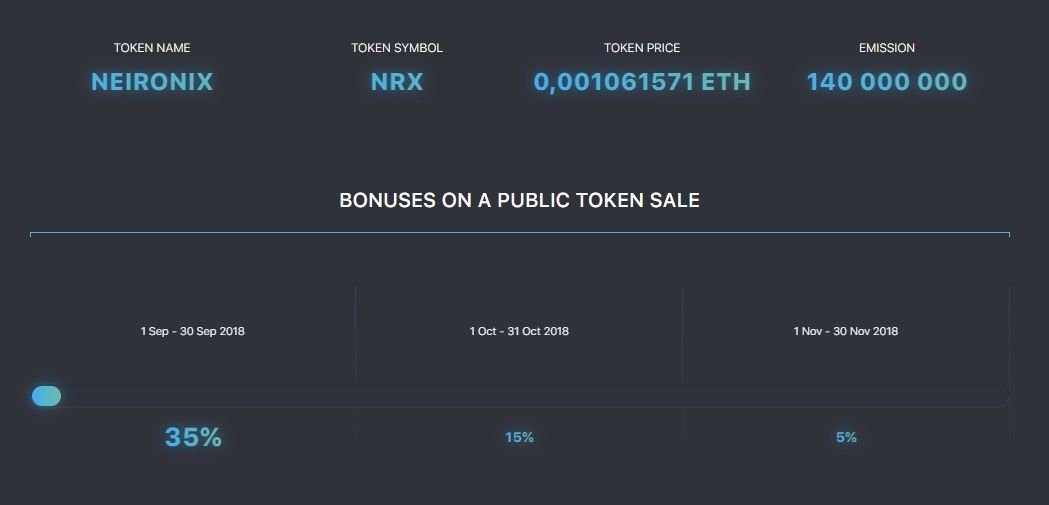 Web: https://tokensale.neironix.io/
ANN: https://bitcointalk.org/index.php?topic=4836574.0
Whitepaper: https://tokensale.neironix.io/files/whitepapper/en.pdf
Facebook: https://www.facebook.com/neironix/
Twitter: https://twitter.com/neironix_io
Telegram: https://t.me/neironix_enn
mrspumpkinn
https://bitcointalk.org/index.php?action=profile;u=2019150
0xB0879E1117A1192759541C055355B3D7671f462F