Neironix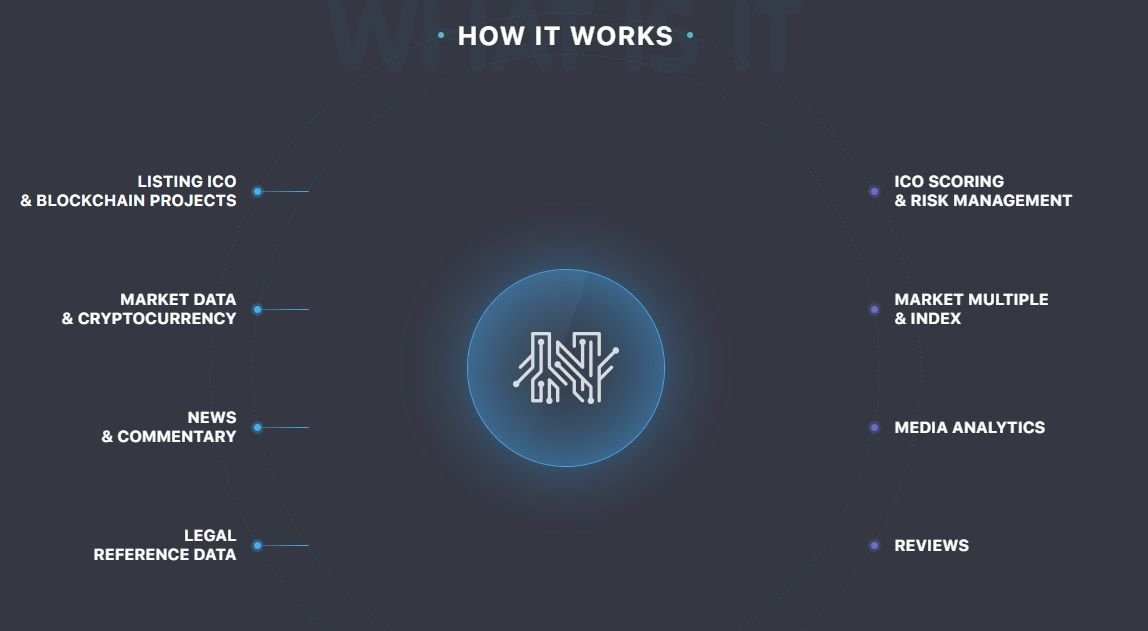 Neironix is the first international rating agency of the assessment of investment risks in the blockchain economy, where ratings are given to projects automatically basing on the results of mathematical scoring, neural networks and multidimensional analysis of the great amount of data. Neironix, as a global aggregator of financial analytics for cryptocurrency markets, it allows accumulation and classification of the aggregate information into risk factors, which are interpreted for the subsequent use of scoring for ICO and blockchain projects

Advantages
The advantage makes Neironix stand out.
Historical record
Information transparency
Neironix as end product
Team uniqueness
Neironix develops standards of cryptocurrency market
Time advance
Online data analysis
Online tracking
Neironix Ecosystem
Neironix uses a set of tools — flows of content and information necessary to select ICO projects for investment. Neironix's objects are private and professional investors as well as ICO projects.
Neironix for private investors
Results of final rating, multidimensional scoring of ICO projects;
Monitoring and notifications about changes in a specific ICO project rating;
Monitoring as to the discharge of key Road Map obligations for each implemented ICO project;
Cognitive analysis of reports in traditional and social media for each implemented ICO project;
Popularity index for cryptocurrencies and tokens;
Analytics for financial markets;
Access to the system of adjusted notifications dealing with monitoring of financial analytics
Neironix for professional investors
Results of final rating, multidimensional scoring of ICO projects;
Dynamic tracking of risk factors and degree of their impact on the resulting rating;
Flexible system of monitoring and notifications about deviations from acceptable risk levels with regards to a specific ICO project;
Monitoring as to the discharge of key Road Map obligations for each implemented ICO project;
Structured analysis of capital for each ICO project at the stages of Token Sale;
Structured analysis of major token holders for each implemented ICO project;
Cognitive analysis of reports in traditional and social media for each implemented ICO project;
Monitoring of probable Pump and Dump for each implemented ICO project;
Monitoring of calendars for planned and actual token listing;
Popularity index for cryptocurrencies and tokens;
Indices and multipliers;
Historical data and analytics for financial markets;
Market reviews and analytics;
Analytics for traditional and social media;
Structured data for preparation of professional judgments
Neironix for ICO
Project management at all stages of the project's lifecycle;
Comparison with other ICO projects, similar in terms of functionality, implementation and idea;
Full checklist for ICO preparation;
ICO scoring;
KYC verification of project stakeholders;
ICO blogging on the Neironix platform;
Publication of press releases, reports and project news;
Analytics for token bidding, notifications about flow of funds for major token holders;
Analytics for advertisement sources, automatic selection of sites for placement.
TOKEN SALE DETAILS
Token Symbol: NRX
Token Sale Date: 09/01/18–11/30/18
Token Price: 0,001061571 ETH
Accepted Payment Method: Ethereum
Total Supply: 140,000,000 NRX
Token Standard: ERC20
Soft Cap: $1,000,000
Hard Cap: $31,000,000
TEAM
ANDREY VENGERETS: Founder, CEO
ALEX SIDORENKO: CEO Risk-Academy
IVAN MARAKHOVKA: Founder, CTO
PETR KAZACHENKO: Backend developer
AZIZ AKOBIROV: CMO
EDUARD KHUDYAKOV: Co-founder
DENIS AHMITZHANOV: Co-founder
ANDREY DEMIANENKO: Risk management
SERGEY SEVANTSYAN
International Public Keynote Speaker & Investment Relations
SERGEY ZINCHENKO: Blockchain analyst
ANASTASIA EVDOKIMOVA: Specialist on public relations
IKROM ERGASHEV: Project manager
VLADISLAV SEROV: Frontend developer
YAMIL MUKHAMETSHIN: Backend developer
ALEXANDER TSVETKOV: Backend developer
RAVIL AKHMETOV: Backend developer
VLAD BEDRIN: Backend developer
DMITRY BORMISOV: Backend developer
ZAMIR BAYTISCHEV: Mobile App Developer
ARTYOM KUDRYASHOV: Machine Learning Engineer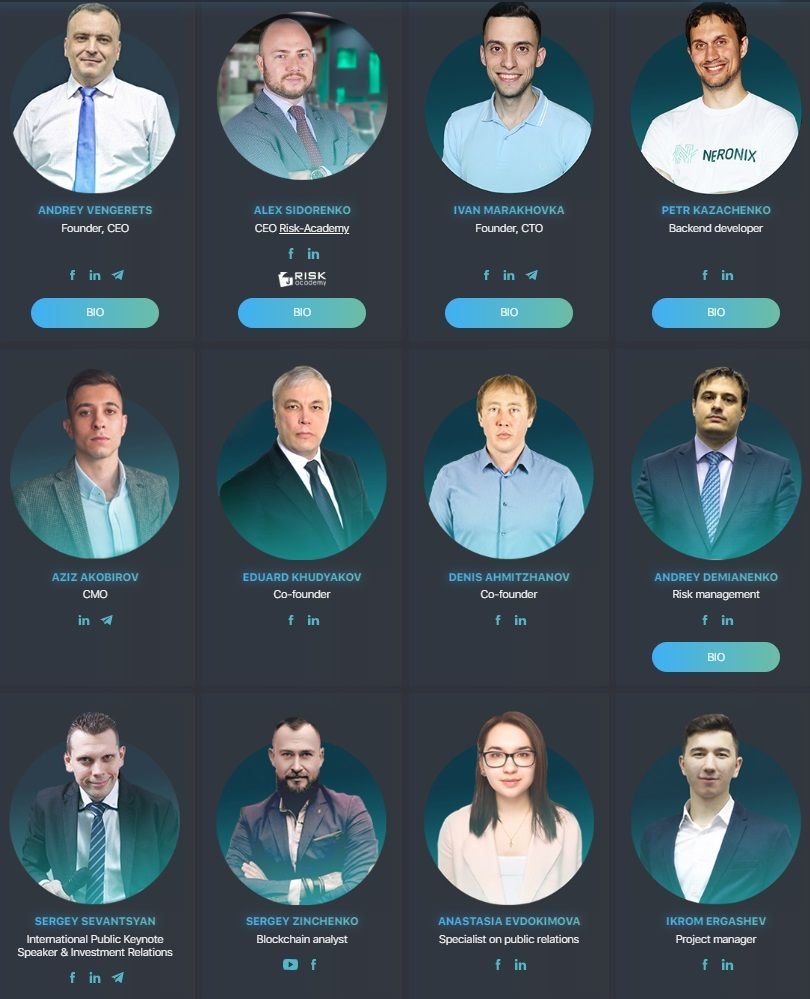 Web: https://tokensale.neironix.io/
ANN: https://bitcointalk.org/index.php?topic=4836574.0
Whitepaper: https://tokensale.neironix.io/files/whitepapper/en.pdf
Facebook: https://www.facebook.com/neironix/
Twitter: https://twitter.com/neironix_io
Telegram: https://t.me/neironix_enn
Tuare agett
https://bitcointalk.org/index.php?action=profile;u=2019154
0x9C4c2c9295b64eE261567a31C9f22E2Db069f181