ICO & Bounty Capverto
     Greetings to you, dear readers. I am always glad to share with you the most promising ideas and start-ups from the world of crypto-currencies. They are created in order to facilitate our life with you, and to change the world in the future. 
      Inclusive banking systems are engines of economic growth and poverty reduction. Without access to the full range of banking services, the non-banking population must resort to services such as microcredit networks and lenders on payday to meet their financial needs, despite high interest rates, steep fees and limited overall flexibility of such options. Non-banking needs more fair, more flexible alternatives.
     Cryptocurrencies are certainly much more convenient to use, since you don't really need to put up with various obstacles that every now and then try to give you banks. And this is non-working time, the duration of international and interbank transfers, visits to offices or branches. Working with cryptocurrency you can safely forget about it.
      But at the same time, cryptocurrencies have a number of inconveniences. For example, the need to convert them into traditional money before visiting a store. There are also risks of losses in course fluctuations. But what if we solve these problems, will cryptocurrency become finally more convenient than traditional money? Of course!
      Capverto Exchange is a decentralized digital currency operating on a flexible market. The currency extends the main advantages of cryptocurrency through a design that directly meets the needs of the vast majority, which are non-banking. Currency provides a comprehensive banking experience based on a prepaid card, which is as easy to use as entering a fast, well-designed web site.
      In particular, users are offered an international Prepaid card CAPVERTO - a kind of bridge between Fiat and cryptocurrency CAP. Maps will be layered and differ in color. Each cardholder receives the number of CAP tokens corresponding to the level of the card purchased, starting at $ 100 for a basic blue card. Like a regular payment card, a CAPVERTO card can be used for purchases in the store and on the Internet, but up to 2 percent of each transaction is reinvested in CAP, allowing you to stabilize the CAP rate. There is also a full-featured reward system that allows you to get direct discounts from affiliate sellers.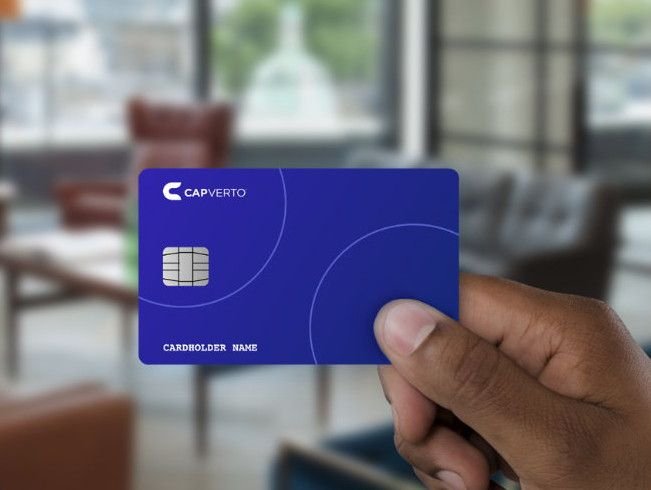 You will have an account on the Capverto portal, where you can see your balance in CAP (Capverto token), replenish it using a local exchange (using the API Binance or OKeX) bitcoin, ether or another cryptocurrency. Further CAP will be deducted from your account in the equivalent of your purchases. The portal itself will convert funds on the fly at the time of the exchange.
     Want to borrow or become a lender? No problem - you can use half of your CAP and borrow or lend at just 8%! That is, you can both earn and take a loan at a very profitable percentage. And it is absolutely safe, so Capverto will automatically insure your risks and automatically write off loan funds at maturity.
                                                  The exchange offers the following:
Prepaid card program
Secure lending and borrowing P2P
Copy trading platform
Cryptocurrency insurance
Extendable Intelligent Contracts
Capverto Warranty Agreement
     Capverto will offer several types of cards depending on the number of CAPs that will be in your account. The initial card (blue) will have a face value of $ 100.
     With each purchase made by you in a store or on the Internet, up to 2% of the funds spent on the purchase will be automatically reinvested in CAP, which will keep the exchange rate stable. Also, some of these funds will be credited back to the account, which will allow you to create one of the benefits for users of the service.
     It will also be possible to use special bonus and incentive programs in affiliate stores, which are planned to connect a considerable number and throughout the world.
     Another feature of the Capverto Exchange portal will be the ability to connect your IBAN / SWIFT account for P2P payments. I think that you perfectly understand how much faster and cheaper it will be than in any bank. It can also be useful to those who conduct international financial activities and significantly save both money on transactions and time to conduct them.
     Capverto Exchange will have its own credit service. If you have available funds that you want to give on credit, but not more than half of all CAPs on your account, then you simply place an application on the portal. Loans are issued with a maximum period of 6 months and a fixed rate of 8% per annum. At the same time, you receive interest on the loan instantly to your account, and the system automatically controls the return of funds on the loan.
P2P secured loans CAPVERTO Exchange is a platform for secure and convenient transfer of P2P. Instead of being cryptocurrency and relying on it, people and organizations can provide up to half of the present value of their assets and charge interest -ci. The annual interest rate is 8% and the amount is paid instantly to the lender. Meanwhile, it is beneficial for borrowers not to rely solely on traditional financial institutions.
Copying the CAPVERTO trading platform makes it easy to track and copy other people's exchanges and portfolios. The copy operation allows new members to start easily, while affecting the value of the CAP token. Ten percent of the product of each copying transaction is automatically subtracted and divided between the original operator and the CAPVERTO Exchange, which, in turn, is reinvested in the PAC. Like other factors affecting CAP, such as a transaction program, the copy operation ensures that the symbolic value accurately reflects the production activity in CAPVERTO.
Cryptocurrency insurance One of the first offers of this type, the CAPVERTO's cryptocurrency insurance product gives you peace of mind that your valuable assets are as safe as possible for theft. Inspired by the response to the historic crime of Monte. Gox Stock Exchange in Tokyo, this insurance is offered in partnership with RiskPoint. It works in conjunction with other protections, including authentication, KYC, AML, and two-factor authentication, to avoid a wide range of cybersecurity threats.
Extensible Intelligent Contracts CAPVERTO offers an open source platform for building custom blockchain applications. Take a look at our GitHub repository today to find out how you can use our intelligent contracts to create public and private chains; Intellectual technology contracts are at the heart of modern crypto-monads, providing transparency, invariance, and the necessary cryptographic security for optimal experience.
    I can not boast of those who lead this project, these are all experts in the industry who have a multi-professional experience and a great level of knowledge in these developments, you can read more about them in the description on the official website where each of them is provided information, as well as have their photos!
                                                         ICO project
     So, as we already understood, the Capverto project token will be CAP. As part of Pre-ICO, which has been successfully completed at the moment, 1 million and 125 thousand CAP have been sold at a price of 1.66 dollars per unit. 171 million and 325 thousand CAP are planned to be implemented within the framework of Public ICO price of 1.82 dollars per unit. Public ICO is divided into 8 stages, each of which is limited in time. At the time of this writing, the second stage is being completed. Soft Cap, as indicated above, is already assembled at the moment. And fees are approaching the $ 5 million mark.
   Token distribution

                                                            Conclusion
      In the future, I think that the project will achieve many goals and objectives, because at this stage I have already established myself quite well and this is not the limit.