ICO & Bounty Pearl Pay
      Greetings to you, dear readers. I am always glad to share with you the most promising ideas and start-ups from the world of crypto-currencies. They are created in order to facilitate our life with you, and to change the world in the future.
       The Philippines has a huge diaspora population of over 10.2 million people. Majority of these are active workers who emigrated in search of greener pastures. Having left behind relatives and friends, these people often require money remittance platforms to send money back into the Philippines. This group remits $74 billion per year where 99% is issued in checks or cash. Of the 1% electronic solutions, the wire transfers are expensive, lack transparency and are not appropriate for emergency needs due to the bureaucratic operations.
     In the event that the international remittance systems are available, there exist many issues such as connectivity as International banks have a small market share in the country. Instead, rural and thrift banks have a market share of over 89% but zero remittance capabilities. This challenge cuts off the ordinary Filipino citizens from accessing money from relatives abroad.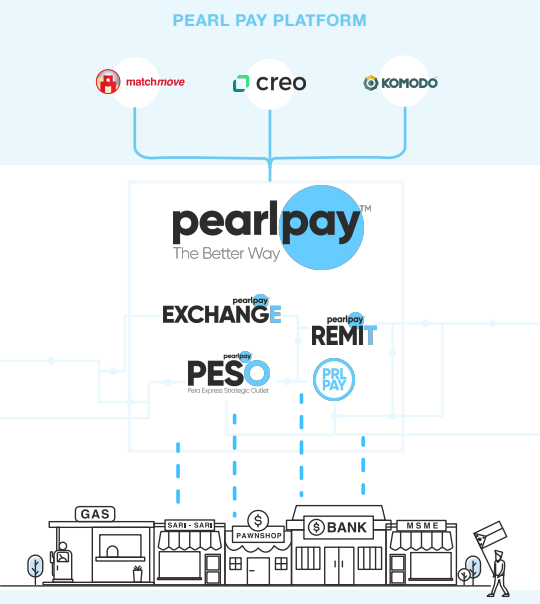 Pearl Pay is a Virtual Money Logistics System™ (VMLS™) which provides a comprehensive "Mobile Payment and Money Transfer Platform as a Service" appropriately designed, of world-class quality, relevant for actual use and beneficial to the financial inclusion target market.
    Pearl Pay is creating a solution to interconnect Payment, Remittance, Banking and Cryptocurrency. We will solve this using a comprehensive, secured and affordable Mobile Wallet OS and use Blockchain as a service to lower the cost. Based on recent research, 70% of Filipino families has no bank accounts. There is also a high cost for domestic and international remittance which is a USD$33B industry in the Philippines.
     This company has many different services like the Pearl Pay Mobile Wallet, Pearl Pay Remit, Pearl Pay PESO, Pearl Pay Exchange and the Pearl Pay Coin. We will individually talk about each one of these products created by the company in this article.
     The Pearl Pay Mobile Wallet will allow rural banks to launch their own prepaid cards that will work just like MasterCard. This way, they will be able to use their money whenever they want and how they want. This is basically the most important feature of the company because it allows anyone in any part of the world to be a part of the digital world and able to use a mobile online wallet to pay.
     PRLPAY Coin will function as a crypto currency, which will be an exchange for the support of Pearl Pay Remit and Pearl Pay Exchange with several functions:
the product will be integrated with the mobile application with the partner bank pearlpay
OFW can be exchanged
currency fiat for coins Pearl Pay
through a partner bank
Pearl Pay and own money transfer Pearl Pay
Account holders can send money for every payment of Pearl Pay throughout the Philippines, selling their own
coins Pearl Pay exchange
                                                    FEATURES OF PEARLPAY
     Foreign payment network licenses and chip card based payment technologies are expensive. Only big banks can afford it. Without E-Money in place, it cost time and money just to send a domestic remittance and pay utility bills. Due to this Pearlpay will create a Pearlpaymobile wallet white-label product, allowing rural banks to launch their own virtual prepaid Pearl Pay accounts as fast as 30 days. The characteristics of Pearlpay is outlined below:
No expensive license fees
No on-premise set up
No set up fees
Lower operating costs
Add value to financial services
Enhance ability to reach new clients
More efficient financial service delivery
It's affordable and accessible Mobile Payment and Money Transfer Platform as a Service.
Ability to leverage on extensive Pearl Pay coalition network
                                       Benefits of investing in Pearlpay
Safety
Convenience
Time savings
Speedy value transfers
Accessible from smartphone and feat
                                   Token
Token Symbol: PRLPAY
Price of token: 1 PRPAY Token= TBA
Accepted Currencies: BTC, KMD
Total Tokens: 500,000,000
Maximum Coin Offered: 175,000,000 PRLPAY
Minimum Coin Required: 25,000,000 PRLPAY
Platform: KOMODO
Private Coin Sale Dates: June 18, 2018 @ 15:00 (GMT + 8)-TBA
Presale Coin Sale Period: July 10, 2018 @ 15:00 (GMT +8)- August 30, 2018 @ 14:59 (GMT +8)
Public Coin Sale Period: September 01, 2018 @ 15:00 (GMT +8)- October 30, 2018 @ 15:00 (GMT +8)
Country: Philippines 
                                                                     Conclusion
      Pearl Pay Blockchain will link Philippines' remittance-dependent economy to the entire world. Peers will be able to send digital cash to each other and the local financial institutions will back up the utility of the digital cash after verifying the transactions. The solution will be easy, transparent, verifiable and cheap.