BitScreener


BitScreener, one of the best real-time crypto-tracking platforms, has served more than 1,2 million traders and investors worldwide to track their investments since launch in 2017. It is now integrating crowdsourcing financial data and content ecosystem on blockchain through token BITX. BITX works as the payment method for financial traders and investors to buy advanced data services and the incentive method for the value contributors of the ecosystem. BitScreener will be a financial data marketplace for financial professionals and engineers to monetize their investment knowledge. The full ecosystem aims to track and analyze 100,000+ stocks worldwide together with existing 2000+ cryptos in a single platform.
Out there, in the conventional world, Google is an invaluable resource where answers for almost everything are found. But to an ardent cryptocurrency enthusiast, this giant search engine cannot be as precise with its answers.
Also, it can be time-consuming, annoying and tiresome to keep asking Google about what the top 1000+ Cryptos are, Daily Gainer, Daily Losers, big Tokens, etc. In fact, keeping track of Bitcoin or the other cryptocurrencies without a proper and dedicated resource may demand extensive research that usually includes being a staunch member of forums and chatrooms.
BitScreener Cryptocurrency Investment & Trade Data Features
We've been made to believe that only a handful of cryptocurrencies born out of the blockchain technologies exist. But in a beautiful and easy-to-understand fashion, BitScreener allows you to monitor over a hundred of them. Everything about BitScreener looks professional, but the stand-out features are:
Intuitive, Easily Understandable Homepage – it offers an overview of what's happening in the crypto-sphere, including the trending coins, top search terms, the gainers and losers, watchlist, latest news and basically all-things cryptos. Furthermore, it is the Heatmap that makes this platform priceless and truly one-of-a-kind.
The Screening Tool – to filter through the 100+ coins based on specific criteria, BitScreener is equipped with a Screening Tool. This tool is one-of-a-kind, and the adjustable parameters include:
Price
Volume
Market Capitalization
Exchange
Performance
Order
Type
Age
Advanced Technical Analysis indicator – it is impressive to mention the integrated indicators that lie directly on the graphical explanations of how various coins are doing in the market. The cryptocurrency market is amazingly volatile, and investors often need to have indicators that will help study it. And so, some of these indicators include:
Simple Moving Average
Bollinger Bands
Relative Strength Index
The Recent News – this platform isn't all about facts and figures and statistics alone. For those who prefer to stay abreast of what could be going on, it has a page of all news articles from hundreds of credible news sources, including CNBC, Bloomberg, Forbes, and MarketWatch.
Other notable features include the Chart Gallery page where you can view periodical representations of how different coins have been doing over different periods. You will analyze a day's change, a week, a month, three months all the way to all-time charts.
BitScreener Crypto Tracking & Analytics App Features
BitScreener is available to download from the iOS app store today. You can also access the platform as a web app. An Android app is scheduled to launch in the near future.
Some of the core features of BitScreener include all of the following:
Tracks 5500+ trading pairs of cryptocurrencies
Harvests live data from 100+ exchanges
Screening tool with hundreds of filtering criteria
Real-time price and volume alerts on mobile devices
Advanced charting with technical analysis
You can use BitScreener to organize your cryptocurrency portfolio. You can track the profit and loss of your portfolio with real-time charts. BitScreener also displays information from across different cryptocurrency markets, making it easy to find the best places to buy and sell different coins. BitScreener currently supports 2,000+ coins.
BitScreener also has an alert system where you can receive alerts based on coin prices, cap changes, trading volume, and performance. if you want to receive an alert when bitcoin breaks $10,000, for example, then you can setup BitScreener to deliver that alert.
Finally, BitScreener offers cryptocurrency screeners, making it easy to find potential coins in which you can invest. You might tell BitScreener to find a cion with a market cap of $50 million to $500 million, for example, and a 1 day performance of over +20%. BitScreener will find any coins matching that criteria.
Finally, BitScreener also offers cryptocurrency news. You can view news for specific cryptocurrencies – like bitcoin and Ethereum. Or, you can view news from across the cryptocurrency industry.



BitScreener BITX Token & ICO Details
BitScreener is launching its own tokens called BitScreener tokens, or BITX. These tokens can be used to purchase advanced BitScreener services. Users can also earn BITX tokens by contributing value to the BitScreener ecosystem.
Of the total supply of tokens, 31% of BITX tokens are allocated to the public sale, 30% to future operations, 20% to future "miners", 15% to the team, and 4% to marketing and advisors.
There's a total supply of 450 million BITX, with a maximum of 139,500,000 BITX available during the token sale. The base rate will be set at 1 ETH = 7154 BITX During the token sale.
A date for the token sale has not yet been announced. As of May 4, 2018, the BitScreener website is still listing "May 2018" as its token sale date.
Information Token
Token Name...........................BITX
Token sale..........................139,500,000 BITX
Platform.................................Ethereum
Token Price..........................0.00013978 ETH
Token Supply...........................450,000,000 BITX
Hard Cap ..............................15,000 ETH
Soft Cap..................................1,000 ETH

BitScreener was initially launched as a cryptocurrency industry analysis tool back in early 2017. Now, the company plans to take its platform to the next level with an integrated token ecosystem and other features.
Key members of the BitScreener team include David Nguyen, Hai Pham, Quang Hoang, and Anh Nguyen.
BitScreener is based in Singapore.
BitScreener Conclusion
BitScreener is a popular cryptocurrency analysis app available for iOS, with premium subscriptions priced at around $5 per month. The app offers extensive tracking capabilities, one-click trading, and other features. Now, the company seeks to expand its platform by launching a cryptocurrency called BITX. That token can be spent on premium BitScreener services. It can also be earned by contributing positively to the ecosystem.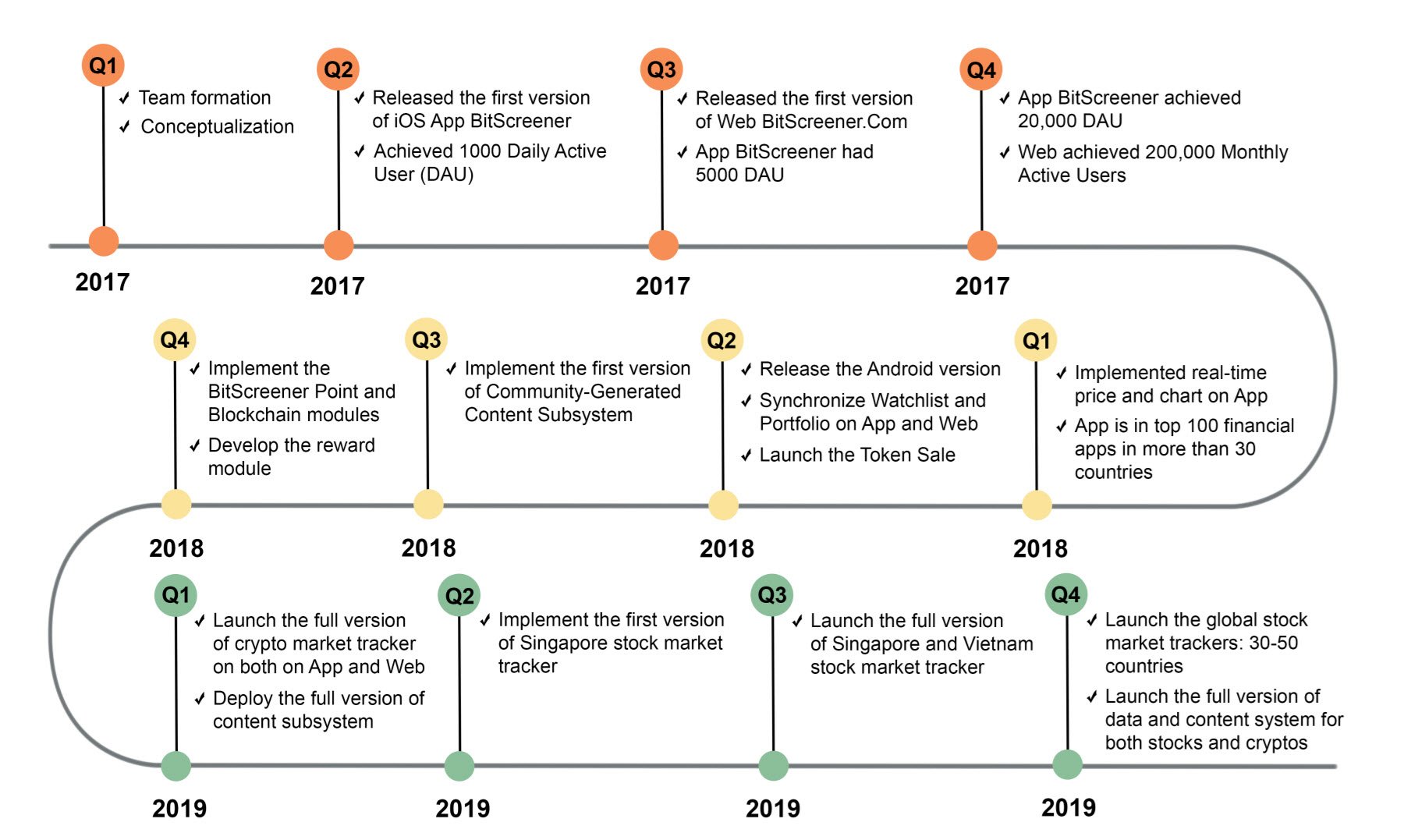 Website: http://www.bitscreener.com/
Whitepaper: http://bit.ly/bitscreener_whitepaper
Bitcointalk ANN: https://bitcointalk.org/index.php?topic=3354336.0
Facebook: https://www.facebook.com/bitscreenercom
Twitter: https://twitter.com/BitScreener
Telegram: https://t.me/bitscreener
BTT Username: Dinama
BTT URL:https://bitcointalk.org/index.php?action=profile;u=1958779
ETH:0xf3dcb4Fca8E55C96a0d428ffd7bca7cc7D0114b3