ICO WEMARK – A DECENTRALIZED PHOTOGRAPHY PLATFORM
Photography has been raging as a trend over the past few years. Cameras have got a lot more features, and have shown a lot of improvement in terms of quality. Even phone cameras are good enough to take professional-looking photographs. Talented photographers are coming out all around the world and many people have started taking up photography as a career. 
WEMARK – Licensing Photos with A DECENTRALIZED PHOTOGRAPHY PLATFORM
Wemark is a growing community of leading independent photographers licensing their photos directly to customers, with no agency involved.We're a group of creators, marketers, designers and engineers, with a huge passion of transforming the way creators distribute their content and how they get paid for it.Our platform uses blockchain technology to allow real peer-to-peer transactions between creators and users - ensuring security, authenticity and most of all, transparency.Wemark is backed by leading global investors, and its advisory board includes some of the top names in stock photography, blockchain technology and online marketplaces.
Background & Motivation
Creators work hard to make content people are ready to pay for.
Creating high-quality content is expensive, but the content can be copied an unlimited number of times with no incremental cost for each copy. For that reason, content creators are constantly looking for ways to promote and distribute their work as widely as possibleThey are always looking for new ways to achieve this goal. 
While they want to reach the maximum number of people, they also want to retain the largest possible percentage of revenue. Copyright laws protect content creators and allow them to monetize their content by licensing it to customers for legal use, recovering the investment and hard work that went into its creation.
Currently, content creators can license their work directly to users, or, alternatively, hand over the rights of that work to agencies and content marketplaces that will distribute the content on their behalf. Mostly they choose the latter, as most individual photographers lack the brand recognition to attract customers directly.
Problem
Currently, content authors transfer the rights to their work to appropriate agencies that will distribute content on their behalf. Most individual photographers do not have enough popularity to attract customers directly, so they are forced to use the services of intermediaries.
The ideal scenario for authors will be the licensing of content directly to customers. This will allow you to receive income in full, retain all rights, provide control and prevent manipulation of data. But this does not work, because it is too expensive and too difficult for authors, which makes it impossible to reach potential buyers and compete with large agencies/markets and with large marketing platforms offering different content, which contributes to a large selection of users.
Every year, trading platforms tighten the rules of the game. As a result, content authors retain fewer rights and, as a consequence, revenues.
Solution
This is an Israeli start-up (also based in San Francisco, USA), developing an innovative digital content distribution system based on the blockchain, which implements the concept of a "decentralized market".Wemark's distributed approach to digital content is based on the following principles:
Authors license their content directly to users;
The authors retain all rights to their content and control its price;
The authors determine the terms of distribution and fees.
Sites for the sale of content receive the right to distribute it by "signing" a digital distribution agreement with the authors. This agreement will set the price range for content licensing; a license will be created for users, and the amount of remuneration to the platform for distribution will be established.Referral programs will help authors and trading platforms reach a wider audience, which, naturally, will increase the overall profit.
How it works?
Wemark intends to develop a new model of the digital content economy, corresponding to the interests of the entire community (authors, customers, and markets) and based on the protocol of the blockchain.The protocol is based on a set of smart contracts developed for the distributed exchange of digital content. The protocol replaces the primary responsibilities in today's content markets such as:
License payments, income distribution, access to the content repository;
Distribution agreements;
Wemark's distribution agreements will allow content authors to collaborate with trading platforms on a win-win system.
Each contract will include a range of prices for content licensing, the terms of issuing licenses to users, fee allocation systems, interest rates for each sale. After signing the contract in electronic form, it is integrated into the blockchain. 
After integration, unilaterally, you can not change, delete or reject the terms of the agreement. They can only be changed by mutual consent.Unlike traditional contracts, innovative smart-distribution agreements are self-regulating. Smart-agreements (based on smart-contracts Ethereum) can accept payments, issue licenses and automatically distribute profits. 
The economy of the token and the details of the ICO
Tokens WeMark established on the basis of blockchain Ethereum, and is used to pay for platform services, and the remuneration of authors and users in the framework of the loyalty program. In the future, new features will be added, such as Studio equipment rental and hiring photo models.
ICO started on may 7 and will last until June 21. To successfully launch the platform, the team needs to raise only $8 million. 
Tokens will be distributed as follows: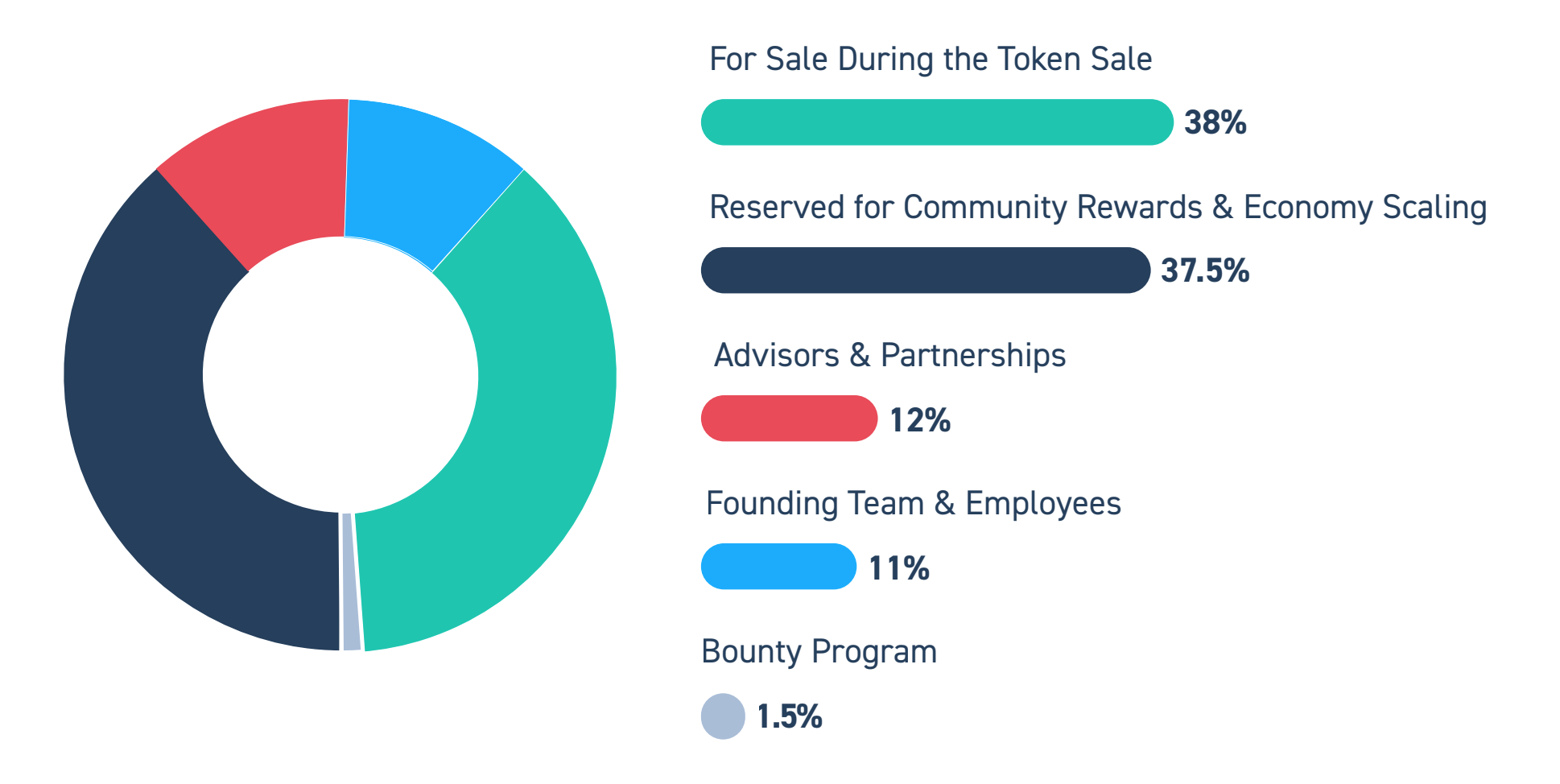 Wemark Roadmap Platform To Become A Network Of Distributed Content Market
In May 2017, Wemark has made the appointment to pre-seed and successfully joined the silicon valley accelerator. The platform has completed a pre-seed fundraiser and raised up to 1 million USD. Funds are obtained from leading stage in Israel and the US. 
The NFX fund access program specializes in network and market effects. In September of the same year, the platform has launched a waiting list for contributors who want to join in the beginning. 
The number of contributors reached over 1500 photographers who successfully registered in the first week. The first product from Wemark was launched in January 2018 with an Alpha version. The launch of Wemark for creator gives photographers the opportunity to create the required profiles within the platform. 
Photographers can also verify identity data submitted. Besides, the photographer can instantly upload images for review. At that stage, more than 20 thousand copies have been contributed by thousands of photographers. Outstanding early participation shows that photographers need a new system to maximize rewards and profits to digital creators. 
Wemark will be the right place to appreciate digital art with the comfortable and functional concept for photographers. In February 2018 Wemark has announced the first advisory council to have a specialist in a particular field. 
Platform development then continues with the announcement of strategic and exclusive partnerships. Partnerships are conducted with the world's largest content provider in photographic stock. In the following months, the Wemark platform has released a white book by launching the TGE site. 
The white paper began to be published and can be known detailed information through the website. The generation token event or TGE is planned to be held in May. General token sales are scheduled to open on May 7th. Participants can purchase tokens in just two weeks after the whitelist period. Wemark plans to launch the alpha version of wemark.com in June 2018. 
This launch can function as a full market and can make transactions. The alpha version launch also allows you to perform payment and licensing distributions. Future developments will launch Wemark pioneers into an early customer program. 
The platform will continue to develop support for new payment methods to make networking easier. The beta release will take place in the 4th quarter of 2018 and will end with a system upgrade for support for new content. 
New content should be kept up to date to keep the system up-to-date. Maintenance and system upgrades will also be made to avoid outdated systems.  
WEBSITE: https://www.wemark.com
TELEGRAM: https://t.me/wemark
WHITEPAPER: https://www.wemark.com/whitepaper.pdf
ANN THREAD: https://bitcointalk.org/index.php?topic=3347524.0
TWITTER: https://twitter.com/_wemark
FACEBOOK: https://www.facebook.com/WemarkOfficial
REDDIT: https://www.reddit.com/r/Wemark/
LINKEDIN: https://www.linkedin.com/company/wemark/
MEDIUM: https://medium.com/wemark-stories 
MY BITCOINTALK: https://bitcointalk.org/index.php?action=profile;u=2240571