MEVU-only safe excitement!

Mevu will allow you to make new friends and find or even create your own sport bets and compete with all the people in our big world. Thanks to blockchain technology, the gaming and betting processes are absolute transparent and secured. Unlike other sites, you can get your money, your payments with the lowest fee in the world and as quick as possible without any obstacles and borders like middlemen or unnecessary third parties.
Mevu is the decentralized network which mean that the regulatory interference is as minimum as possible — nobody is going to be on your way to the victory. Global leaderboards make the competition even more interesting, intriguing and captivating.
You as a client of Mevu are sure to get your money stored in one of the safest place of the world — in the Mevu blockchain. The technology is absolutely secured and transparent. Besides, it guarantees that your bets will be executed securely and quickly. With Mevu you will find out that bets can be fun and to compete with people from different countries which makes the very process of betting more exciting. As a player you can use your own bet and bet on whatever you find attractive.
So, if you are interested in the sphere of gambling and betting and if you have been looking for a perfect place and a perfect teammates with whom you can compete — mevu has been created just for you. I joined in a few months ago, and I must say this is one of the best way to spend leisure time I have ever had. So, join Mevu and me, too. Maybe we can bet on something, who knows. Good luck for you!



WHAT IS MEVU?
As a peer-to-peer decentralized network, MEVU allows people to bet on anything, anytime, against anyone. Turn any situation into a social bet; who can drink the fastest, who will win the next round of golf, or be the first to lose 10 pounds. If your friends are not around, make new ones by finding or creating sports bets on the global MEVU network. MEVU is bringing betting back to the basics between people. The way it was meant to be.
Blockchain increases transparency and security
Quick, automatic payouts with historically low fees
Eliminates 3rd party gouging
Minimises regulatory interference
Global leaderboards foster competition
OUR SOLUTION TO THE PROBLEM
"The American Gaming Association estimates that $400 billion is spent each year and 99 percent of it is illegal"
– BOBBY SKOFF CO-FOUNDER OF SWISH ANALYTICS
There are many operational, licensing, and upfront costs in starting a sportsbook. Clients are charged high fees to make up for these costs and are also forced to deal with 3rd party institutions. These institutions have wait times and fees of their own when redeeming winnings. Additionally, due to regulatory repercussions, security vulnerabilities and exploitation of personal information, players and operations both run the risk of losing their funds. Despite these issues, "The American Gaming Association estimates that $400 billion is spent each year and 99 percent of it is illegal" – Bobby SkoffMEVU uses smart contracts on the Ethereum blockchain to immutably and transparently store players funds and information, providing players with confidence that their bets will be executed securely and quickly. MEVU makes betting fun, fostering competition by matching players against each other instead of a faceless bookie. Players can set their own odds, and bet on virtually anything. By cutting costs of traditional sportsbooks, and 3rd parties, MEVU players enjoy a historically low 2% fee.
HOW OUTCOMES ARE DETERMINED
To facilitate a decentralized application the MEVU smart contracts utilizes our MVU token to ensure bets are resolved automatically. The MEVU token (MVU) is an essential part of the MEVU ecosystem and economy. The main function of the MVU token is for players to stake their balance which will allow players to become oracles, and report on the outcomes of events. When oracles reach consensus, they receive service fees from the bets that are resolved.
HOW TO GET TOKENS
Fulfilling oracle services
From another player via transfer
Claiming referral and ranking rewards
Staking and winning tokens in exclusive games
Sending ETH to MVU creation contract during ITO
TOKEN & ICO DETALS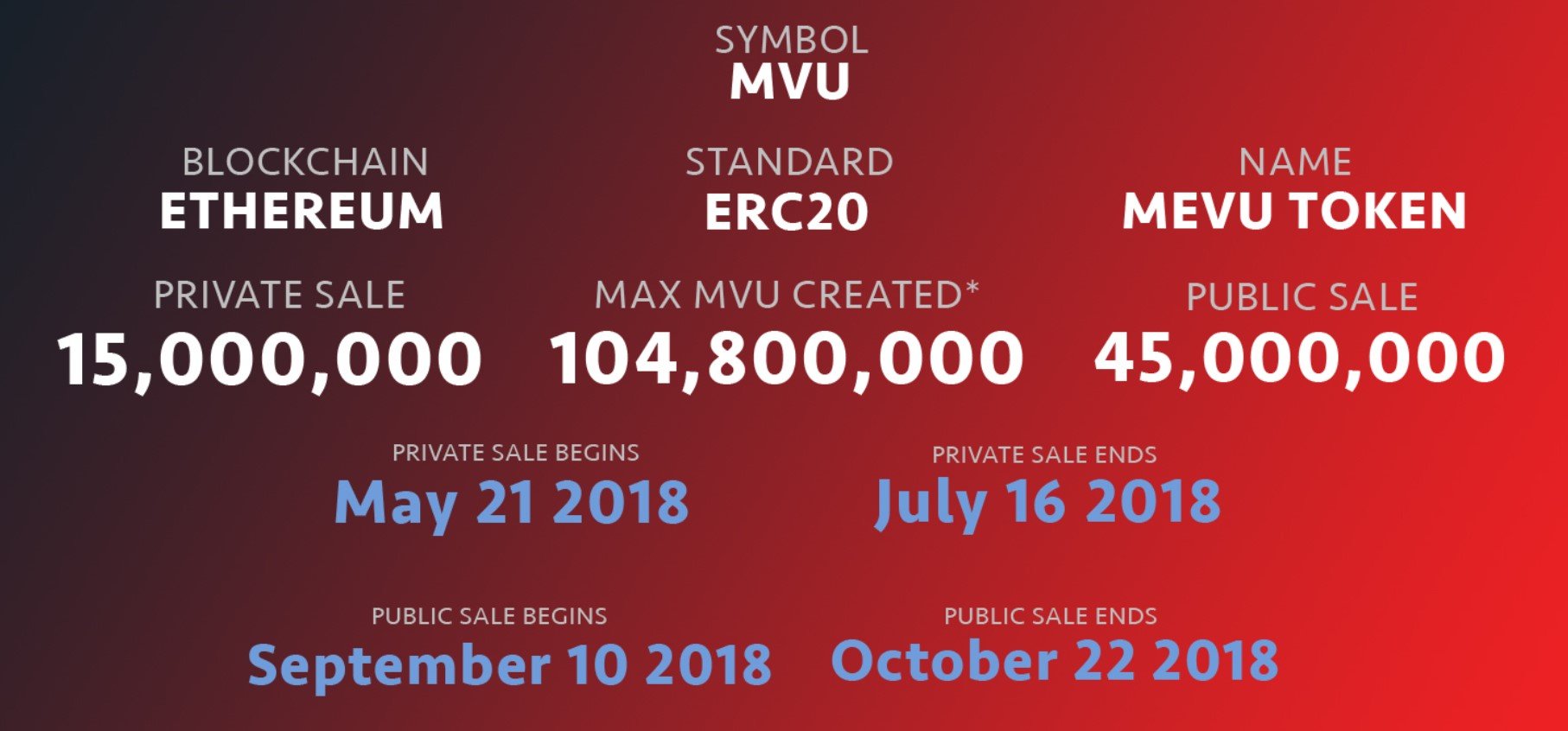 '
ADVISORS & TEAM
Our team's experience stems from the businesses we have built in the financial and technology sectors. After being introduced to Ethereum in 2016 by industry leaders, we recognized the potential of bringing game changing ideas like ours to life. Since beginning work on MEVU we have become members of our local Ethereum community, and have truly become blockchain enthusiasts. We will continue to build MEVU until we have realized our vision of the future of online betting. A fully decentralized peer-to-peer platform.

ROADMAP

Websitesi: https://www.mevu.bet/
Whitepaper: https://www.mevu.bet/#whitepaper
Facebook: https://www.facebook.com/betmevu/
Twitter: https://twitter.com/mevu_bet
LinkedIn: https://www.linkedin.com/company/27145515/
Telegram: https://t.me/joinchat/FKcKRUwJ1_T8zMK2Lueu3A
Bitcointalk Username: Vic12
Bitcointalk Profile Link:https://bitcointalk.org/index.php?action=profile;u=1881783
0xd2697c14D1902cD8a7c59802F0343E5bEbD9DdBD